Join us at the coolest party in town!
This year's spring soiree honors New London artist Barkley L. Hendricks (1945 – 2017) and his influential contributions to contemporary art.
You'll be able to visit our exhibition of his powerful works as part of the evening's festivities.
Guests at our celebration will enjoy cocktails, online and in-person auctions, Raise the Paddle, and a delectable dinner party under twinkling lights on the Museum lawn.
Proceeds from the evening support the Lyman Allyn's education programs and daily operations. 
Saturday, June 3
6 - 9 PM
Please consider supporting the Lyman Allyn in person and/or by bidding on our exciting online auction. Even if you are unable to attend in person, the online auction of one-of-a-kind treasures and experiences is available to all regardless of party attendance! Scroll down for online auction details.
We are sold out!

Please call 860.443.2545 to inquire about our waitlist.
Questions? Please email us. 
This event is made possible with support of generous individual and corporate sponsors, who may receive tickets and recognition online and at the soiree. If you have questions about sponsorship, please contact Ellen Anderson at 860.373.3238 (mobile).
The online auction is available to all regardless of party attendance!
Click below to register online and bid on your favorite auction items. Remember to bid high and bid often! Items will be available for viewing in Glassenberg Gallery beginning Saturday, May 27.
Online bidding begins 9 AM on Saturday, May 27 and ends 7 PM on Saturday, June 3. 
You must register in order to bid!
Already registered? Click the link below to begin your bidding at 9 AM on Saturday, May 27. 
The Live Auction will take place at our in-person event.
Items/certificates will be available for pick up at the Lyman Allyn immediately after the auction closes and until June 8 at 4 pm. Please note that items will not be shipped.
First time using Auctria? Check out our list of frequently asked questions below. 
Guest arrival
Cocktails
Online bidding
Online bidding closes
Welcome remarks
Dinner
Director's remarks
Live auction
Raise the Paddle
Pick up items in
Glassenberg Gallery
Guests depart
• Our spring soiree will take place outdoors on the Museum's front lawn.
• Garden party attire is requested. Since the event is held outdoors, please choose your footwear accordingly. 
• In the event of rain, please bring an umbrella.
• Parking will be directed to Connecticut College's south parking lot (our driveways are connected). It is a short walking distance to the Museum. 
• Enjoy an elegant served dinner provided by Gourmet Galley, along with a selection of drinks from the bar. 
• Bid on our online and live auctions of one-of-a-kind treasures and experiences and Raise the Paddle to support the Museum's Yellow Bus Fund.
Thank you to our Corporate & Individual Sponsors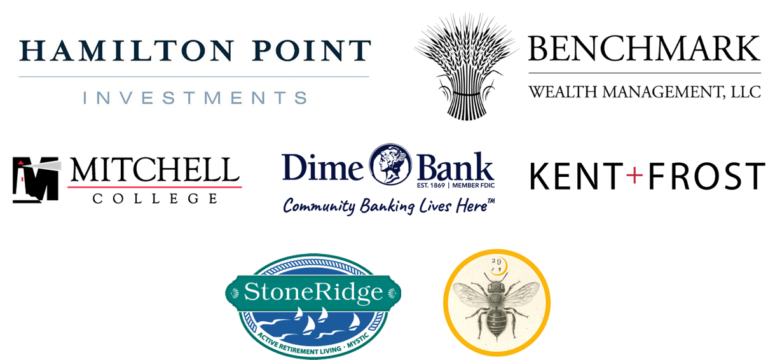 Gail Barley and Steve Wood • Silvia Spagnoli-Berman and Andrew Berman • Judy Cotton • Arline and Jeff Culp • Marcia and Douglas L. DuMond • Elizabeth and Anthony Enders • Lilian King and Allan Dodds Frank • David A. Lewis Jr. and Francisco Ribas • Lisa and Morgan McGinley • Polly and Newt Merrill • Nancy Newcomb and John Hargraves • Jane and Jon Sproul • Alexandra Stoddard • Pamela and David Thompson • The A Team – Ellen Anderson, Alison Zack Darrell, Alison Woods • Lissa and Dan Verdier
Event Co-Chairs: Gail Barley, Arline Culp, Polly Merrill, Mary Richardson, Liza Sharp
Committee: Ellen Anderson, Alison Zack Darrell, Becca Dawson, Kendrick Hawkins, Emeline McKeown, Alison Woods