November 13, 2021 – January 16, 2022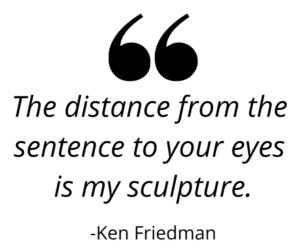 92 Events presents works spanning six decades by New London-born American-Swedish artist Ken Friedman. Friedman produces conceptual, action-oriented, language-based works that challenge the idea of an artwork as a unique object. Throughout the exhibition, instructional texts navigate a fine line between sculptural proposition, absurdist action, and concrete poetry. From his earliest "events" as a young boy in New London, through his connections with Fluxus, the international movement that developed its anarchic approach to art making from the 1950s through to the present, Friedman's work has questioned what art can be and who can make it.
This exhibition was conceived by the artist and Copenhagen-based art historian Peter van der Meijden and is touring globally, opening first in Shanghai in fall of 2019 and followed most recently by showings in New Zealand, Lithuania and Spain.
Kenneth S. Friedman (born September 19, 1949, New London, Connecticut) attended Shimer College, where he studied music theory and composition. He later received an MS from San Francisco State University and after that a Ph.D. from the Graduate School of Human Behavior at U.S. International University. He has taught courses in the literature of surrealism, the avant-garde, and expanded arts, all the while experimenting with many forms of conceptual art, from the graphic and concrete arts to music, writing and performance. Friedman founded Fluxus West in 1966 shortly after becoming acquainted with George Maciunas and other Fluxus members in New York.
Virtual Lecture
Held on January 8, 2022