September 10 – November 6, 2022
The large paintings that form the core of Catherine Christiano's exhibition, Album of Flowers | Interesting Times chronicle a year, each month's panel juxtaposing naturalistically painted seasonal flora with a collage of content from The New York Times. The still lifes are placed directly within the context of 2016, the emotionally charged election year during which the series was conceived.
The backgrounds, designed to resemble a front page, represent the omnipresent backdrop of societal activities in everyday life. As in a newspaper, mundane and seasonal activities appear alongside historically important and catastrophic events. Each panel also includes at least one reference to the death of a public figure, a reminder of the transience of life in both humanity and nature.
Albums of flowers that pair flora with the months are found in the traditions of both Eastern and Western art. In creating these works, Christiano was influenced by 18th and 19th century Japanese and Chinese artists. These include Tao Rong (China, 1872-1927) and Katsushika Hokusai (Japan, 1760 – 1849).
The series Album of Flowers | Interesting Times combines the traditions of the graphic with the painted to juxtapose the activities of society with nature. It represents an attempt to depict the artist's daily experience of navigating physically, psychologically, and virtually between the two worlds: "With the news now a constant flow, I'll check websites several times a day. While painting, I listen to podcasts and news broadcasts. With what I've heard or read still in mind, I may switch realms and head outdoors to where my garden of flowers seems persistent, uplifting, and offers respite from chaos."
Prior to earning a BFA, Catherine Christiano was educated and employed in the fields of engineering and finance. Among the positions she held was one located in the World Trade Center, for which reading The Wall Street Journal was intrinsic to her morning workday routine. Because newspapers have been ubiquitous in her life, when she turned to artmaking, she instinctively incorporated them into her work.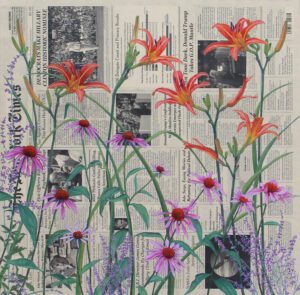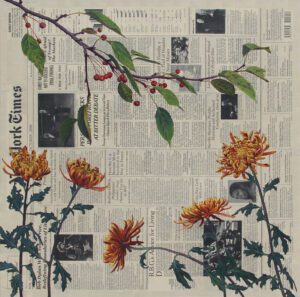 Top: Album of Flowers: Interesting Times, Daylilies, Coneflowers, and Russian Sage: July 2016, 2020 – 2021, oil, acrylic, and transfers on panel, 36 x 36 inches.
Bottom: Album of Flowers: Interesting Times, Crabapples and Chrysanthemums: October 2016, 2020 – 2021, oil, acrylic, and transfers on panel, 36 x 36 inches.