A pop-up Exhibition at the Lyman Allyn Art Museum
January 25 – February 26, 2023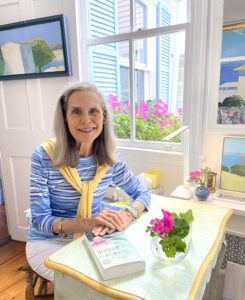 Over a long and remarkable career as a best-selling author and international interior designer, Alexandra Stoddard has focused on ways to incorporate beauty and color into our daily rituals to bring us happiness. A resident of Stonington, Connecticut, Stoddard lives as she writes, surrounded by art and everyday objects that instill joy. This pop-up exhibition features select art and objects from Stoddard's personal collection, including paintings, works on paper, ceramics, quilts, scarves, and vintage textiles. Stoddard holds a sizable collection of paintings by Roger Mühl (French, 1929-2008), including several featured here. Works of art by Joan Brady, Lord Alistair Gordon, and Lady Anne Gordon will also be on view, in addition to items such as postcards, ribbons, and stationery, offering a reminder of how simple colorful objects can uplift our lives and bring joy to others.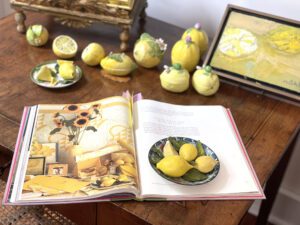 Stoddard studied interior design in New York and traveled around the world before she began her career in interior design in 1961. In her work, she created a unique approach to decorating, dealing with space primarily from the point of view of color. Stoddard's design work led her to write, and she is considered one of the pioneers of the Happiness Movement. She has written 28 books about living well, including Living a Beautiful Life, Alexandra Stoddard's Book of Color, Choosing Happiness, The Decoration of Houses, You Are Your Choices, Time Alive, The Shared Wisdom of Mothers and Daughters and Living in Love. Her books and philosophies earned her widespread media attention, including features in magazines, newspapers, and TV shows such as the Today Show, Good Morning America, and Oprah. Stoddard hosted the HGTV program Homes Across America, and she wrote a monthly column Living Beautifully for McCall's Magazine for six years. Alexandra has hosted Happiness Retreats across the country and in her hometown of Stonington. She is the mother of Alexandra and Brooke and has four grandchildren.
---
This exhibition takes place in the Museum's Lehman Auditorium, which is a multi-use space. Programs and other events may occupy the auditorium, and the exhibition will not always be available to view. We recommend that folks coming a distance call ahead (860.443.2545) before traveling to the Museum to ensure the space is open.
---
Exhibition Opening
Friday, January 27 • 2 – 3:30 PM
Suggested donation $5.
RSVP to 860.443.2545 ext. 2129 or email us.
Lecture
Sunday, February 12 • 2 – 3:30 PM
In conversation, Alexandra Stoddard will discuss the art and objects on view, sharing stories from her life and career and ideas about how beauty and color can help enrich our daily lives.
Members $10 / Non-members $15
RSVP to 860.443.2545 ext. 2129 or email us.