October 12, 2007 through February 25, 2008
Listen to Helen Harrison's review of the Cranch exhibition on "Art Waves" which aired on December 6, 2007 on 88.3 FM WLIU's "In the Morning with Bonnie Grice."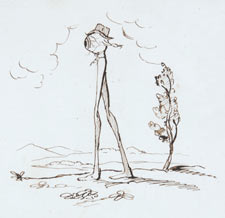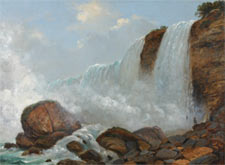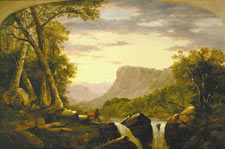 Despite a fifty-year career as a landscape painter, Christopher Cranch's paintings are little known. Instead, he is best known for his poetry, his ties to the New England Transcendentalists, and, above all, his playful caricature of Ralph Waldo Emerson as an enormous "transparent" eyeball, perched atop a minuscule body in top hat and tails, optic nerve tied in a pony tail. From his first reading of Emerson's Nature essay (1836), Cranch was inspired to explore Transcendental concepts through visual means; although ultimately it was painting, not caricature, that provided the ideal vehicle for him. Transcribing nature onto canvas became an act of devotion. Like Thoreau writing of the daily trials of life on Walden Pond, Cranch also attempted, in his landscapes, to express the correspondence between nature and spiritual concepts. His brand of Transcendentalism bypasses the quiet, "transparent" aspect to celebrate a nature that is filled with the flux and continual shifting that Emerson and Thoreau also celebrated in their writings. C. P. Cranch was intimate with some of the most innovative thinkers in America and counted among his friends Margaret Fuller, Ralph Waldo Emerson, George William Curtis, and James Russell Lowell. This study considers Cranch not only as a Hudson River School artist, but also as a participant in the history of ideas, a multi-faceted individual who merged intellectual and artistic life.
The exhibition is accompanied by a 208-page exhibition catalogue; At Home and Abroad: The Transcendental Landscapes of Christopher Pearse Cranch (1813 – 1892). The Foreword is written by Barbara Novak, Professor Emerita at Columbia University, one of the most influential theorists on American art. Nancy Stula, Curator and Deputy Director of the Lyman Allyn Art Museum, and David M. Robinson, Distinguished Professor of American Literature at Oregon State University authored the catalogue essays.
After closing at Lyman Allyn Art Museum, the show will travel to the Newington-Cropsey Foundation in Hastings-on-Hudson, New York, where it will be on view March 17 through May 31, 2008.
At Home and Abroad: The Transcendental Landscapes of Christopher Pearse Cranch has been made possible by generous grants from the Connecticut Humanities Council and the Henry Luce Foundation.
This exhibition is also supported in part by the Frank Loomis Palmer Fund, Bank of America, Trustee, and with support from the Connecticut Commission on Culture & Tourism. Eli Wilner & Company Period Frames, New York has provided numerous frames.