September 1- October 20, 2017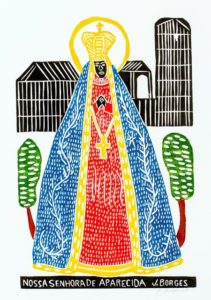 A traveling exhibition from the National Endowment for the Humanities, Bandits & Heroes, Poets & Saints explores how the ancient cultures of Africa blended with indigenous and colonial Portuguese traditions to form the vibrant and complex cultural mosaic of modern Brazil. Engaging photographs and works of popular art, including sculptures, paintings, prints, religious objects, toys, and booklets of poetry will surely fascinate.
The exhibition presents the complex and vibrant culture of the Northeast of Brazil and introduces the festivals, heroes, and spiritual traditions that give shape and meaning to the daily lives of the Nordestinos, common people of Brazil's Northeast. Explore how diverse traditions come together in the region and learn about works by historical and contemporary artists that illuminate this remarkable history and resound in modern Brazil.