January 16 – March 22, 2015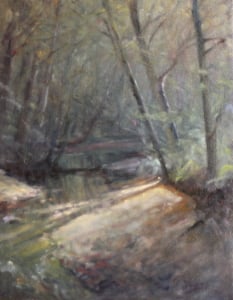 A new exhibit entitled Celebrating Lyme's Beauty will feature landscapes created by artists from all over New England who participated in the "Celebrating Lyme's Beauty Paint-Out," an annual plein air painting event now in its fourth year that is co-organized by the Lyme Art Association, Lyme Land Conservation Trust and The Lyman Allyn Art Museum.
This year's Paint-Out was held on Columbus Day Weekend at the Land Trust's newly acquired Banningwood Preserve, a 102-acre upland and flood plain landscape in Hadlyme covered with forests and fields. The Paint-Out event continues the plein air tradition established by the early American Impressionists who founded the Lyme Art Colony over a hundred years ago and used Lyme's meadows, rivers and streams as subjects for their work.
The clear waters of Roaring Brook flow through the middle of the Preserve. Dramatic rock ledges, once quarried to provide stone for nearby Gillette Castle, rise over the landscape. Features include dramatic vistas, lush meadows, cedar groves, quarry pools, beaver dams and lodges, tree canopies, and an early 19th Century family burying ground with grave stones that attest to the land's history. Scenes of fall foliage, woodlands and streams are among the subjects depicted in this collection of works.