June 1, 2013 – June 30, 2013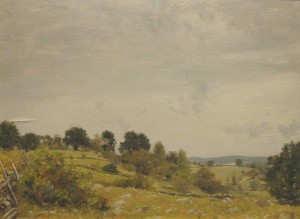 This exhibition is a collaboration between the Lyman Allyn Art Museum in New London, The Lyme Art Association in Old Lyme, and the Lyme Land Conservation Trust in Lyme.  All three organizations are in New London County.
This is the 3rd annual exhibition of, what we have come to call, "The Paint Out." Artists were invited to gather and paint at the Pleasant Valley Preserve in Lyme (a Lyme Land Conservation Trust property) on Saturday, April 27th.
There is a long tradition of plein air painting in Lyme and Old Lyme, dating back to the turn of the twentieth century.  Artists including Henry Ward Ranger, Childe Hassam, Willard Metcalf, and Frank Vincent Dumond, gathered in this part of Connecticut and painted along the banks of the rivers, in fields, and in many of the spots now protected by the Lyme Land Conservation Trust. That plein air tradition continues with the artists represented here in this exhibition.