September 2 – October 29, 2017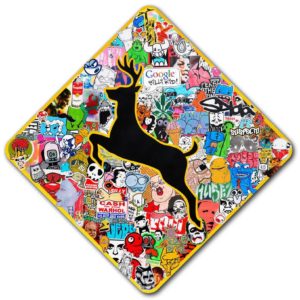 Artist Billi Kid brings his witty and streetwise commentary to the subject of environmental impact in our Near :: New series of contemporary artists. Deer in the Headlights addresses issues related to environmental and sociological concerns regarding one of our most precious resources, our wildlife. Billi Kid reinterprets 20 iconic deer crossing signs, in collaboration with some of today's most prolific sticker and street artists.
---
About Billi Kid
Billi Kid is a contemporary artist, designer and curator whose artistic vision derives from a passionate urban temperament. His subversive aesthetic and strong brand identity mixes graffiti and street art sensibilities with sophisticated nods to high art, fashion and design. His multidisciplinary approach to storytelling generate beautifully crafted artworks and exhibitions that mirror the city landscape with unrivaled authenticity.