April 27 – August 25, 2019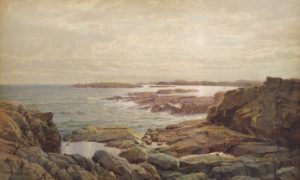 "I have made some new walks and discovered new beauties, and believe that I could from Newport scenery make more charming pictures than I ever dreamed of before."
-William Trost Richards
Landscapes tell stories about place, history, and belonging, capturing the beauty of the world around us. Discovering New Beauty: Watercolor Landscapes of the Northeast examines the varying landscape of the Northeast over the last hundred or so years. Drawn largely from the Lyman Allyn's permanent collection, this exhibition includes watercolors of the forest, fields, hills, shoreline, and sea. It also explores the built environment, with urban and suburban scenes that reflect on changing demographics. The exhibition looks at watercolor as a medium, exploring different artists' techniques and considering how the quick-drying pigments are useful for artists working outdoors.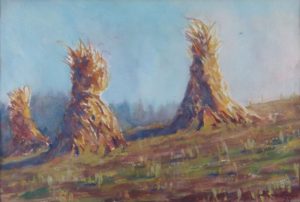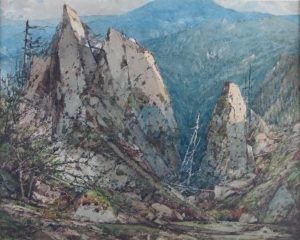 Left: Bancel LaFarge, Cornstalks, 1933, watercolor on paper. Lyman Allyn Art Museum, gift of Mrs. Bancel LaFarge, 1943.462; Right:  William Louis Sonntag, Sr.,Rocks and Mountains, ca. 1880s, watercolor on paper. Lyman Allyn Art Museum, gift of Frederick A. Moore, 1956.82.
---
This exhibition is generously supported by the Frank Loomis Palmer Fund, Bank of America, Trustee, and the Department of Economic and Community Development, Office of the Arts.