October 14, 2023 – January 14, 2024
Exploring landscape, nature, and the role of place in the imagination, this exhibition presents the recent work of contemporary artist Elizabeth Enders (American, born 1939). In vibrant paintings and watercolors, Enders depicts abstracted landscapes, inviting viewers on a wide-ranging journey. Inspired by experiential knowledge and by places and events of the past and present, Enders renders volcanoes, rivers, oceans, deserts, fields, plants and tropical foliage, along with unusual monuments and structures found in places such as Egypt and Iceland. Such pieces consider how place is connected to meaning and narrative.   
A group of serene watercolors merge sky and water in bands of color, depicting the coast of Nova Scotia, where the artist travels every summer. Other images of the shoreline and Long Island Sound reflect the artist's affinity for the sea, along with her concern for preserving the natural world in the face of growing environmental challenges. While many of Enders' seascapes are composed in situ, other landscapes reflect her curiosity for exploring the unknown through various source materials. Taking a place or moment as a starting point, Enders often produces watercolors and paintings with connected ideas and imagery, tracing a theme in several iterations. The 1571 maritime Battle of Lepanto inspired several of Enders' compositions, which depict a bird's-eye-view of water, landforms, and tiny ships engaged in naval fighting. An interest in cartography and symbolic forms emerges in other maplike compositions, some of which are inspired by historic documents. This work considers the ways that symbols encode information, representing geography by charting spaces. Maps are tools of understanding, but they have historically been used in a variety of ways, sometimes as part of larger systems of power to control land and resources. By remaking these symbols and systems, Enders liberates them and gives them new meaning.    
Born and raised in New London, Connecticut, artist Elizabeth Enders holds a BA from Connecticut College and an MA from New York University. She divides her time between Connecticut and New York City, where her work is represented by the Betty Cuningham Gallery. Enders' art is held in numerous museums and private collections and she has exhibited in a variety of institutions and galleries since the 1960s. Recent solo exhibitions include the Art Gallery of Nova Scotia in Halifax, the Addison Gallery of American Art in Andover, MA, and a dual exhibition held at the Lyman Allyn and at Real Art Ways in Hartford, Connecticut in 2015. 
Some of the art on view was created during the COVID pandemic, as Enders channeled her creativity in a time of isolation and stasis. Traveling vicariously, she painted places remembered and imagined, infusing her work with bold color and energy. With this exhibition, Elizabeth Enders inhabits a realm of exploration, reflecting on our shared past, present, and future.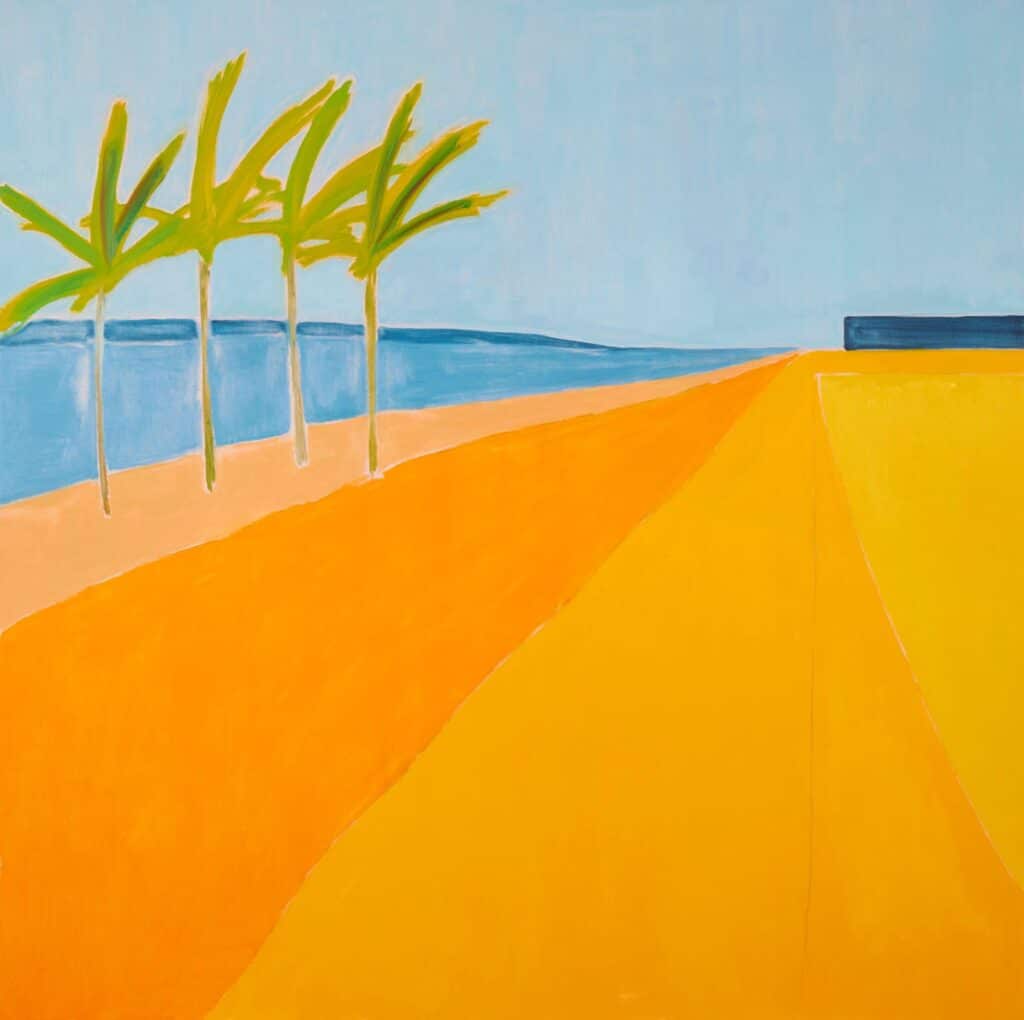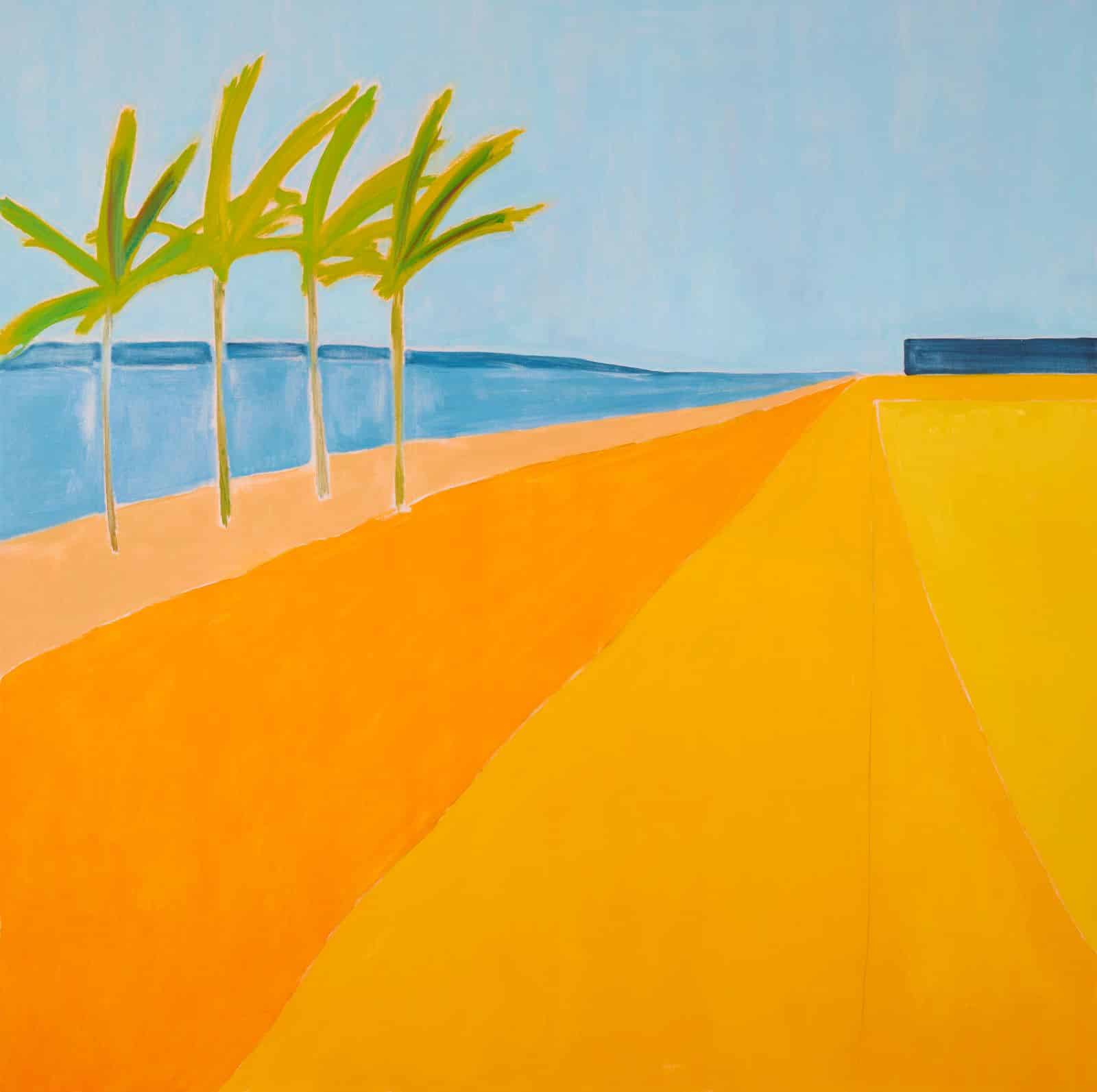 Elizabeth Enders, Chicago, 2022, oil on canvas, 60 x 60 inches. Courtesy of the artist and the Betty Cuningham Gallery, New York.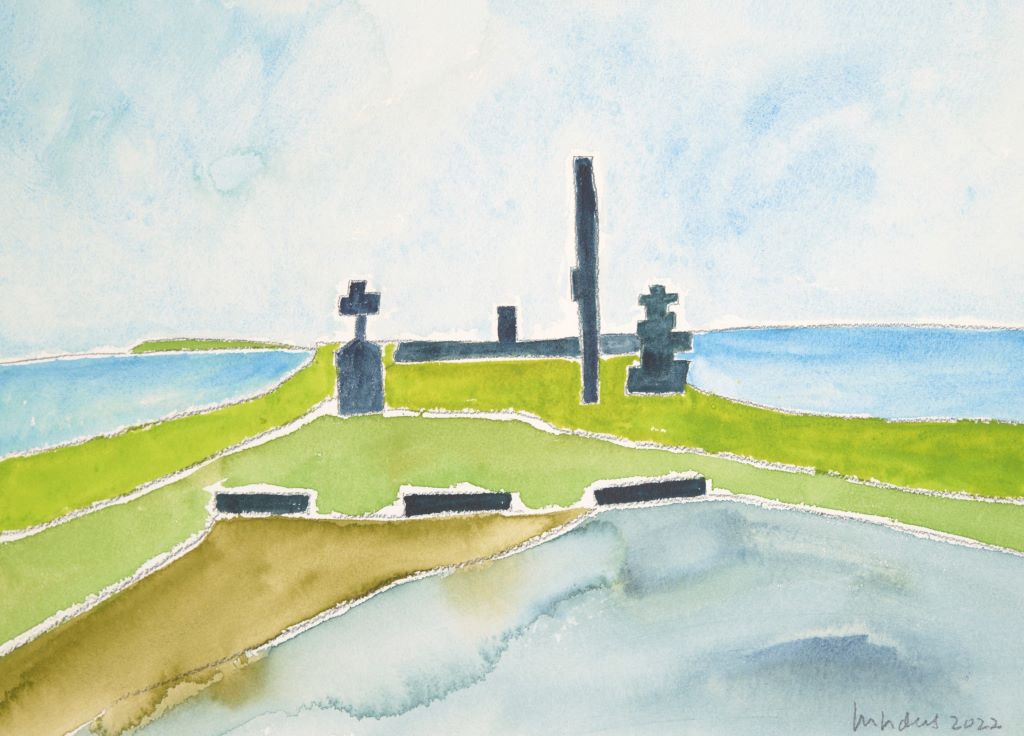 Elizabeth Enders, Iceland III, 2022, watercolor on paper, 10 3/16 x 14 ¼ inches.