December 1, 2018 – March 24, 2019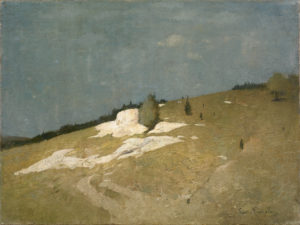 Painter Emil Carlsen (1848-1932) emigrated from Denmark to the U.S. at the age of 19, bringing European academic training to his work in America. For the first part of his career, he painted distinctive still-lives, subtle and precise, that were inspired in part by the work of the 18th century French artist Jean Chardin. A master colorist, Carlsen possessed a sophisticated sense of design and an ability to find subtle beauty in the everyday subject.
While the artist is known for his masterful still-life paintings, this exhibition will present Carlsen's equally compelling landscapes and seascapes, celebrating the span of his career and emphasizing his work as a teacher. Carlsen taught art for decades in Chicago and on both coasts at venerable institutions such as the National Academy of Design, the Art Student's League, and the Pennsylvania Academy of the Fine Arts, influencing a generation of artists who studied under him.
Emil Carlsen was one of a group of artists working in America in the late nineteenth and early twentieth century who were influenced by European art. As French Impressionism became more influential, Carlsen adopted some of its tenets, painting landscapes and seascapes with a light, dappled palette. After 1900 he worked for a time in Connecticut, drawn to the state's rural beauty and its artist colonies. A close friend of artist Julian Alden Weir, Carlsen spent time at both the Weir farm in Branchville, Connecticut and at Weir's Windham home before acquiring his own Connecticut residence in 1905 in Falls Village, at the foot of the Berkshires.