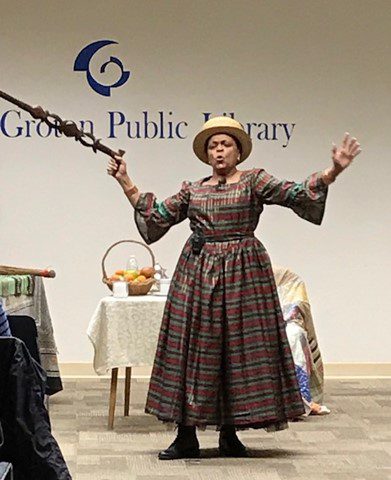 Harriet Tubman: A Woman with a Railroad
Presented by Adwoa Bandele-Asante
Join us for an interesting and interactive afternoon of learning with a live performance of Harriet Tubman: A Woman with a Railroad by New London's own Adwoa Bandele-Asante. This program is free and open to all.
About the program:
This one woman show, written and performed by Adwoa Bandele-Asante is arguably the best post-Civil War portrayal of Harriet Tubman to date.  Through the story of Harriet Tubman's struggle for freedom from slavery and inclusion as an American citizen, Adwoa demonstrates how faith, courage, and commitment inspired this great woman warrior, healer, and builder of the twentieth century.
Harriet Tubman is an inspiration for many.  She was a woman of very humble means who used diligent work, good common sense, and faith to accomplish much.  She continues to inspire conscious and downtrodden people throughout the world today.
About the presenter:
Adwoa Bandele-Asante was born and raised in New London, CT.  Here she attended public grade schools and earned a Bachelor of Arts degree from Connecticut College.  After earning a Master of Arts degree from Howard University in Washington, DC, Ms. Bandele-Asante taught high school and founded the Back to Africa Club which enabled her to travel to West Africa.  While in DC she debuted Harriet Tubman:  A Woman with a Railroad at highly acclaimed director Haile Gerima's Sankofa Books and Videos Cafe. Ultimately, she returned home, with her husband and four daughters, to be with her elderly mother in New London.
Diligent study of Harriet Tubman spans from her place of birth in Dorchester County, MD to her final resting place in Auburn, New York, as well as, in communion with scholars in places like Alabama, Georgia and Mississippi.
Much research and curriculum development happened for our Amistad piece while working as an educator, since 2018, with Connecticut's flagship freedom schooner Amistad.  Consultations are ongoing with scholars from, and with expertise on, Sierra Leone.
Mrs. Bandele-Asante has consistently shown a steadfast commitment to grassroots organization and advocacy for healthy learning, eating, and exercise. Today she is founder and managing member of P.E.A.C.E. Works Group LLC.  The performing arts have been a lifetime interest for Mama Adwoa.  Other interests include playing tennis, chess and the electric bass guitar.  She has traveled to several different countries and looks forward to continuing to share her talents throughout the United States and beyond.