November 23, 2019 – January 26, 2020
Go wild this holiday season with the Lyman Allyn's newest family-friendly exhibit, Grand Menagerie: Animals in Art! From the earliest cave drawings to the sleekest modern art, the animal world has always been a source of inspiration. Discover a zoo's worth of animals to be found throughout the museum's collection—in paintings, ceramics, sculpture, drawings, bronze, textiles, photography and more.  Explore the ways artists have depicted animals throughout the centuries, both observing the natural world and seeing themselves reflected in it. Learn about the symbolism humans have attached to animals in different cultures and how those meanings have shifted over time as societies have changed. Featuring more than 50 artworks and artifacts from the museum's collection and interactive fun for all ages, Grand Menagerie promises something for everyone in your herd!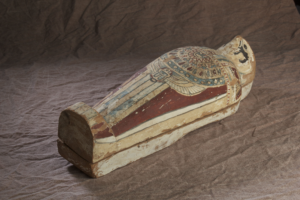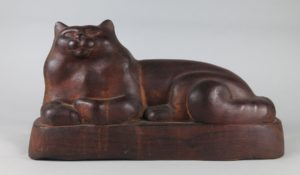 Left to right: Egyptian Falcon Sarcophagus, n.d. Wood, paint, gesso. Gift of Mrs. Earle W. Stamm. 1980.89; William Zorach, Reclining Cat, ca. 1926, rosewood. Bequest of Mary Griswold Steube. 1998.21.