On view: September 22, 2013 – June 8, 2014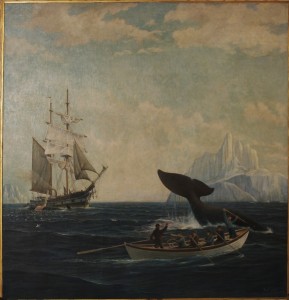 In celebration of the relaunching of the last surviving wooden whaleship, Lyman Allyn presents Greasy Luck! The Whaling World of the Charles W. Morgan. The exhibition, which runs from September 21 through June 8, 2014, will look at how whaling—its myths and reality, risk and reward—left its mark on Connecticut and American identity.
In the 1800s, friends and family gathered on the docks to wish "greasy luck" for a successful voyage to departing whaleships. To most people, whales were mysterious creatures. Yet whaling was big business. The thousands of barrels of oil the whalers brought home made ports like New London and Mystic some of the wealthiest places in the young nation, supporting a wide array of dockside occupations.