February 18 – May 14, 2017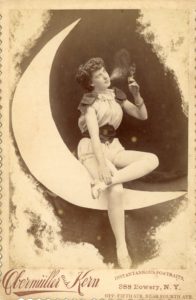 Almost all of us today exchange online photographs or "selfies" with classmates, family and friends. But did you know this practice has a long history?
Shortly after the invention of photography in the mid 19th century, tourists began documenting their travels with souvenir photo portraits. Photo studios were hugely popular attractions at state fairs, carnivals, and downtown arcades. Printed on penny postcards these images were mailed across the country to family and friends.
One of the most cherished backdrops was the "paper moon" – a cut-out crescent moon set in front of a painted backdrop with stars. Others included painted backdrops of tourist destinations like Niagara Falls, or studio props where people posed in front of painted canvas foregrounds with comical bodies.
Bringing together a collection of over 500 souvenir portrait photographs from about 1870 to 1950, this exhibition celebrates the tradition of souvenir portrait photography in America. The exhibition also includes an actual "paper moon" photo booth where visitors will have an opportunity to pose for their own souvenir portrait.