February 5 – April 10, 2022

Hills of St. Felix, 2015, oil on canvas, diptych, 24 x 48 inches each.
Artist Marian ("Bing") Bingham explores place, temporality, memory, and meaning in her work. Shifting between materials and techniques, Bing's practice concerns formal artistic exploration grounded in observation, narrative, and allegory.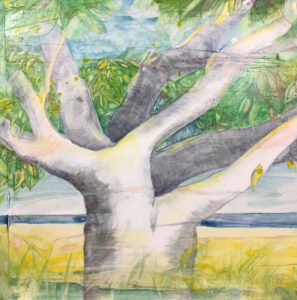 Drawn to the natural world, Bing has found inspiration in the Connecticut landscape and the French countryside. In this exhibition, multi-panel paintings present sweeping views of forests and fields, while smaller canvases depict evocative, poetic spaces. Horses and figures on horseback are a recurring theme in Bing's work, harkening back to her childhood and an interest in exploring the human and equine bond. Recent prints and collages reveal the artist's exploration of seriality, color, form, and texture. Still-life and interior views alternate with imaginative scenes that playfully juxtapose materials and effects.
Originally from Berkeley, California, Bing traveled extensively and has lived in France and Asia, experiences that have indelibly shaped her life and her art. She studied Chinese painting in Hong Kong and the Philippines before receiving her BA at Connecticut College in 1991 and earning her MALS at Wesleyan University in 1995. Having lived in Connecticut for 40 years, Bing currently works from the ICB Studios in Sausalito California. She is represented by the Walter Wickiser Gallery, Inc., Chelsea, New York City, and her work has been shown in solo and group exhibits across the U.S., Europe, and Asia. Her art is held in various public and private collections.
A related exhibition, The Chinese Ink Art of Marian Bingham, will be held at the Charles Chu Asian Art Reading Room of the Charles E. Shain Library at Connecticut College from February 28 to June 15, 2022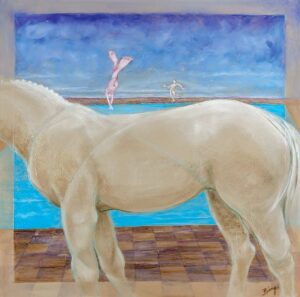 Left: Night Moth, 2019, mixed media, 20 x 20 inches framed; Right: Descent/Civilization, 2017, oil on canvas, 36 x 36 inches.
Virtual Exhibit Opening
Held on February 4, 2022