March 1 – July 31, 2015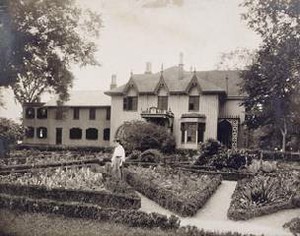 Beginning in March, Lyman Allyn will host Lost Gardens of New England, a traveling exhibition on loan from Historic New England. Lost Gardens draws on the wealth of images – drawings, watercolors, and historic photographs – in Historic New England's collection. The exhibition uses reproduction material to depict New England gardens, great and small that no longer exist or only partially survive. Three sections explore major themes of American landscape history: the New Republic, House and Garden Beautiful, and Revival Gardens. Landscape drawings provide insight into how these gardens were conceived and visualized by their creators, either amateur or professional. Photographs capture the gardens and their features in their glory as well as the people who maintained and enjoyed them. The images selected illustrate New England's rich garden design traditions and offer inspiration to gardeners today. Incorporated into the exhibition will be profiles of local "lost" gardens, including Westomere in New London and the now restored gardens of Eolia, the Harkness estate (now Harkness Memorial State Park) in Waterford. Influential patrons brought such prominent landscape architects such as Frederick Law Olmsted and Beatrix Farrand to New London County in the early 20th century. The exhibit tells the stories of the 'lost gardens' in our own backyard and the people who made them.
"Lost Gardens of New England" Organized by Historic New England.
Images from the gallery: