FOR IMMEDIATE RELEASE
October 20, 2016
Lyman Allyn Art Museum
Press Contact: Rebecca Marsie, Communications Associate
860.443.2545 x112 / [email protected]
LYMAN ALLYN ART MUSEUM CONTINUES ART HISTORY FOR ALL COURSES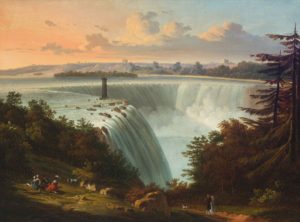 New London – The Lyman Allyn Art Museum is pleased to announce the continuation of its lifelong learning program, Art History For All… This course, beginning November 10th, is entitled "Early American Art."
Tanya Pohrt, Ph.D., Project Curator at the Lyman Allyn Art Museum, will lead this five-week art history series. Through a mix of lecture and class discussion, participants will explore the ways that objects can unlock fascinating stories about history and culture from previous eras, offering insight into the lives of artists and artisans as well as those who owned and viewed objects, both elite and ordinary Americans.
Course Overview
Inspired by the Lyman Allyn's newly reinstalled American Perspectives galleries (opening November 6), this course will examine the scope of American art and material culture from colonial times until the turn of the 20th century. We will consider the ways that art can inform viewers about history, politics, society, economics, and religion. At every step, America was shaped by trade and immigration, with cultural cross-currents from Europe, Latin America, Asia, Africa, and elsewhere. Key events in history offer some topics for discussion, such as the American Revolution, the figure of George Washington, Westward Expansion, and slavery and the Civil War. Likewise, developments in technology, industry, and infrastructure affected the type of art and objects produced in America and influenced their path to consumers and viewers.
Weekly classes will be held in the auditorium of the Lyman Allyn Art Museum. Advanced reservations are required. Please contact the Education Department at 860.443.2545 x110 or email [email protected].
Class Information
Classes: 5 Thursdays: Nov. 10, 17 and Dec. 1, 8, 15 (10:00 am – 12:00 noon)
Fee: $125 members/ $150 non-members
For more information or images, please contact Rebecca Marsie at 860.443.2545 x112 or at [email protected].
About Tanya Pohrt
Tanya Pohrt is a scholar of American art, with a Ph.D. in American Art History from the University of Delaware (2013). She is the Project Curator of American Art at the Lyman Allyn Art Museum (since October 2015), prior to which she held curatorial positions at the Fairfield Museum and History Center and the Yale University Art Gallery. She has taught art history at the University of Delaware. Recent publications include an essay on John Trumbull in Versailles et l'Indépendence Américaine, 2016, and "The Greek Slave on Tour in America," in Nineteenth Century Art Worldwide, Summer 2016.
About the Lyman Allyn Art Museum
The Lyman Allyn Art Museum welcomes visitors from New London, southeastern Connecticut and all over the world. Established in 1926 by a gift from Harriet Allyn in memory of her seafaring father, the Museum opened the doors of its beautiful neo-classical building surrounded by 11 acres of green space in 1932. Today it presents a number of changing exhibitions each year and houses a fascinating collection of over 16,000 objects from ancient times to the present; artworks from Africa, Asia, the Americas and Europe, with particularly strong collections of American paintings, decorative arts and Victorian toys and doll houses.
The museum is located at 625 Williams Street, New London, Connecticut, exit 83 off I-95. The museum is open Tuesday through Saturday, 10:00 am – 5:00 pm, Sundays 1:00 – 5:00 pm; closed Mondays and major holidays. For more information call 860.443.2545, ext. 129 or visit us on Facebook or the web at: www.lymanallyn.org.