FOR IMMEDIATE RELEASE
November 16, 2016
Lyman Allyn Art Museum
Press Contact: Rebecca Marsie, Communications Associate
860.443.2545 x112 / [email protected]
THE LYMAN ALLYN ART MUSEUM PRESENTS A COLORFUL DREAM
Photography by Adrien Broom
New London – The Lyman Allyn Art Museum is proud to announce the opening of A Colorful Dream, Photography by Adrien Broom, on view from November 19, 2016 through January 8, 2017. This exhibition, an exhilarating holiday season experience for the whole family, features the bold and colorful work of local artist, Adrien Broom.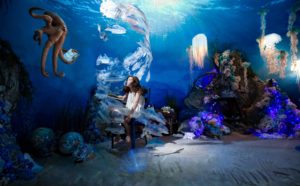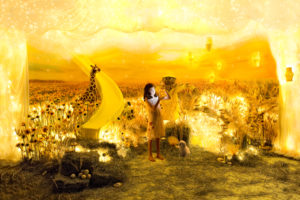 A Colorful Dream is the latest exhibition in the Lyman Allyn's Near :: New contemporary series.  This family-friendly, interactive exhibition highlights the work of contemporary fine art and commercial photographer, Adrien Broom.
The culmination of a three-year studio project, A Colorful Dream features a colorful and evocative three-dimensional installation and large-scale photographs detailing a young girl's journey as she rediscovers all the colors of the rainbow. While working in her studio, Broom designed and constructed individual sets composed of everything that embodies a particular color; a world of white, red, orange, yellow, green, blue, purple and rainbow. She then photographed a young girl finding and traveling through each monochromatic world, beginning in her all-white bedroom, rediscovering the simple joys of color.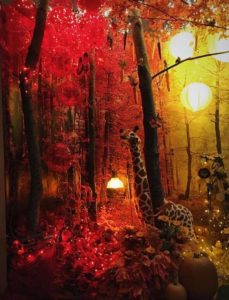 Broom's project began with a dream about color, imagining what it would be like to awaken in a world without color and then have each color of the rainbow reappear in turn. Adrien and her assistants Kristen Meyer and Tony Palmieri painstakingly traced this narrative of color discovery, constructing sets filled with objects in a particular color and photographing a young girl's experiences within these colorful worlds. This journey concluded with a rainbow-hued space where objects of multiple colors converged, offering dazzling chromatic range and variety. This magical vision is recreated in the Glassenberg Gallery at the Lyman Allyn Art Museum, where Museum visitors will be able to immerse themselves in Broom's fantasy world through an interactive rainbow forest where they can take pictures of their own!
Interested in fairy-tale themes, Broom creates and documents lush dreamscapes— places that might only exist in fantasy. They are very real, however, constructed from actual objects in three-dimensional space. The magical forest and the photographs explore formal beauty and offer fictive worlds that engage color in visually striking and thought-provoking ways. Designed to evoke and capture a sense of childhood fantasy, they also challenge viewers to consider the meaning of color, vision, and the historic and cultural associations of different hues.
The public is encouraged to come take joy in A Colorful Dream and its accompanying programming.  This exhibition will be sure to lend an unforgettable air of celebratory magic this Holiday season to New London, and beyond.
The opening reception will be on November 18th from 5:00 – 7:00pm. Museum members are free and non-members are $10.  Please RSVP to 860.443.2545 ext. 129.
For more information or to request images, please contact Rebecca Marsie at 860.443.2545, ext. 112 or at [email protected].
About the Artist
Adrien Broom is a contemporary fine art and commercial photographer based in New Haven, Connecticut. As this installation suggests, Broom's fine art photography often focuses on myth and childhood fantasy, with young women as the protagonists. Her commercial work includes fashion and portrait photography. Broom's work has been exhibited all over the world at venues such as the Hudson River Museum, NY, the Palazzo Strozzi, Florence, Italy, the Florence Griswold Museum, CT, and many galleries.
About the Lyman Allyn Art Museum
The Lyman Allyn Art Museum welcomes visitors from New London, Southeastern Connecticut and all over the world. Established in 1926 by a gift from Harriet Allyn in memory of her seafaring father, the Museum opened the doors of its beautiful neo-classical building surrounded by 11 acres of green space in 1932. Today it presents a number of changing exhibitions each year and houses a fascinating collection of over 16,000 objects from ancient times to the present; artworks from Africa, Asia, the Americas and Europe, with particularly strong collections of American paintings, decorative arts and Victorian toys and doll houses.
The museum is located at 625 Williams Street, New London, Connecticut, exit 83 off I-95. The museum is open Tuesday through Saturday, 10:00 am – 5:00 pm, Sundays 1:00 – 5:00 pm; closed Mondays and major holidays. For more information call 860.443.2545, ext. 129 or visit us on Facebook or the web at: www.lymanallyn.org.