FOR IMMEDIATE RELEASE
February 8, 2017
Lyman Allyn Art Museum
Press Contact: Rebecca Marsie, Communications Associate
860.443.2545 x112 / [email protected]
THE LYMAN ALLYN ART MUSEUM PRESENTS TWO NEW EXHIBITIONS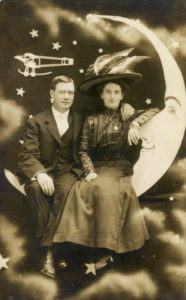 New London – The Lyman Allyn Art Museum is proud to announce the opening of It's Only a Paper Moon: Souvenir Photography in America, 1870 – 1950 and From Combat to Carpet: The Art of Afghan War Rugs. Both exhibitions will be on view February 18 through May 14, 2017.
Celebrating the tradition of souvenir portrait photography in America, It's Only a Paper Moon: Souvenir Photography in America, 1870 – 1950, will bring together a collection of over 500 souvenir portrait photographs from about 1870 to 1950. Guest curated by Dr. Christopher Steiner, this exhibit is a visual delight full of fond memories from our collective past.
Almost all of us today exchange online photographs or "selfies" with family and friends. But many do not realize that this practice has a long history. Shortly after the invention of photography in the mid-19th century, tourists began documenting their travels with souvenir portraits. Photo studies were hugely popular attractions at state fairs, carnivals, and downtown arcades. Printed on penny postcards, these images were mailed across the country.
One of the most cherished backdrops was the "paper moon" – a cut-out crescent moon set in front of a painted backdrop with stars. Others included painted backdrops of tourist destinations like Niagara Falls, or studio props where people posed in front of painted canvas foregrounds with comical bodies. The installation at then Lyman Allyn will include an actual "paper moon" photo booth where visitors will have an opportunity to pose for their own souvenir portrait!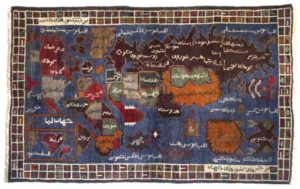 From Combat to Carpet: The Art of Afghan War Rugs presents the most distinguished collection of Afghan war rugs in the world. It is an important exhibition that brings to the Lyman Allyn Art Museum over 40 large and small-scale contemporary weavings from Afghanistan.
Organized and curated by Enrico Mascelloni and Annemarie Sawkins, PhD, this exhibition presents works of artistic excellence depicting a surprising variety of subject material ranging from maps to weaponry. In the three galleries where this traveling exhibition is on view, visitors will see a selection of rugs hung on walls, and others displayed on raised platforms, offering different vantage points to view the weavings. These compelling examples of contemporary craft – traditionally made by women artists and sold in Kabul, Herat, Mazar-i Sharif, and in the bazaars of Pakistani cities Peshawar and Islamabad – reflect the country's war-ridden history.
Artfully depicted with rich hues and texture, these rugs feature world maps, political portraits, cityscapes, Soviet and American armaments and weapons such as tanks, helicopters, and anti-aircraft missile launchers as politically charged decorative motifs. The mostly female weavers of these rugs update the historic legacy of their craft to create modern and iconic references in their work. The most recent rugs depict the events following the tragedies of September 11, 2001 and the subsequent U.S. military invasion.
Rug weavings in the Middle East date back thousands of years. The process involves knotting individual pieces of colored wool to the warp threads of a loom. It can take up to a year to produce a full-sized carpet or a complex rug.  War rugs are unique to Afghanistan and northern Pakistan, to which many weavers fled following foreign invasions and civil war.
Though very different in nature, these exhibitions will intrigue the eye while exploring shared memory and experiences.
The opening reception for both exhibitions will be on Friday, February 17th from 5:00 – 7:00pm. Museum members are free and non-members are $10.  Please RSVP to 860.443.2545 ext. 129.
Check the museum website at www.lymanallyn.org and the Museum's Facebook page for updates and additional programming.
Tours of the exhibition are available for groups. To schedule tours, call Director of Education, Caitlin Healy at 860.443.2545 ext. 110 or e-mail [email protected].
For more information or to request images, please contact Rebecca Marsie at 860.443.2545, ext. 112 or at [email protected].
About the Lyman Allyn Art Museum
The Lyman Allyn Art Museum welcomes visitors from New London, southeastern Connecticut and all over the world. Established in 1926 by a gift from Harriet Allyn in memory of her seafaring father, the Museum opened the doors of its beautiful neo-classical building surrounded by 11 acres of green space in 1932. Today it presents a number of changing exhibitions each year and houses a fascinating collection of over 17,000 objects from ancient times to the present; artworks from Africa, Asia, the Americas and Europe, with particularly strong collections of American paintings, decorative arts and Victorian toys and doll houses.
The museum is located at 625 Williams Street, New London, Connecticut, exit 83 off I-95. The museum is open Tuesday through Saturday, 10:00 am – 5:00 pm, Sundays 1:00 – 5:00 pm; closed Mondays and major holidays. For more information call 860.443.2545, ext. 129 or visit us on Facebook or the web at: www.lymanallyn.org.