FOR IMMEDIATE RELEASE
October 26, 2016
Lyman Allyn Art Museum
Press Contact: Rebecca Marsie, Communications Associate
860.443.2545 x112 / [email protected]
LYMAN ALLYN ART MUSEUM REOPENS PERMANENT COLLECTION OF AMERICAN ART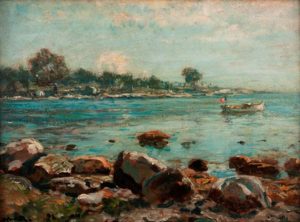 New London – The Lyman Allyn Art Museum is proud to announce the opening of American Perspectives, its newly reinstalled permanent collection of American Art on November 6, 2016. With paintings, sculpture, furniture, and decorative arts from the 18th through 20th century, the renovated galleries offer a fresh approach to new and familiar treasures.
American Perspectives presents American art through an often regional lens, using chronology and thematic groupings to celebrate the strengths of the collection, which include 18th century furniture, New London's maritime and whaling history, Hudson River School paintings, and Connecticut Impressionism, along with modern and contemporary art.
Closed for renovation since June 27th, the new galleries will look dramatically different from the previous installation. American Perspectives features never-before-seen objects, new research insights, and dynamic and accessible interpretation. Thematic groupings emphasize the social and historical contexts in which objects were created, in addition to celebrating their aesthetic beauty. Amaze Design of Boston has redesigned the gallery layout, altering walls to better fit groupings within the installation. The space features free Wi-Fi, state-of-the-art LED lighting, new wall colors, a resurfaced floor, custom cases and platforms. The mixture of what art is on display has also been updated. While the exhibition in these galleries previously tapered off at about 1945, the story is now extended through the second half of the 20th century. In so doing, the recent story of American art is better reflected by showcasing what some might consider the surprising depth of the Museum's modern collection.
A cohesive system of graphic panels and labels is enhanced by an interactive mobile phone app powered by Cuseum for both iOS and Android devices. This new app, featuring tours of the galleries, educational content, and location-based notification, will provide visitors with a new way of encountering art. The Lyman Allyn will launch the application at the same time as the unveiling of American Perspectives, on November 6, 2016. Visitors using the free app will be greeted with an introduction, and will be able to pick the path through the galleries that interests them. In addition, as viewers get close to a particular work of art, rich content about a work of art can be delivered to their device. This latter feature is powered by iBeacon technology to enable notifications and provide a "digital docent" experience. The Lyman Allyn Art Museum app will be available in the App Store.
During the same timeframe as the American Perspectives renovation, a building-wide modernization of the machinery that maintains an ideal climate controlled environment has taken place, enabling the museum to better preserve the collection with up-to-date temperature and humidity controls. The dual modernization projects, made possible with generous funds from an anonymous foundation and a bond from the State of Connecticut, greatly improve the visitor experience to these important galleries, which have been largely static for close to two decades yet are a mainstay of the museum's educational programming.
American Perspectives will be open to the public beginning Sunday, November 6 at 1:00pm. Museum admission is $10 for adults and $7 for seniors and students; children under 12 and New London residents are free.
Check the museum website at www.lymanallyn.org for updates and additional programming.
Tours of the exhibition are available for groups. To schedule tours, call the Education Department at 860-443-2545, ext. 110 or e-mail [email protected].
For more information or images, please contact Rebecca Marsie at 860.443.2545 x112 or at [email protected].
About Cuseum
Cuseum powers mobile-first experiences that help museums engage their visitors. Cuseum software platform makes it easy for museums, cultural institutions, and public attractions to publish mobile apps, manage their collections, access visitor analytics, and generate new revenue opportunities.
About the Lyman Allyn Art Museum
The Lyman Allyn Art Museum welcomes visitors from New London, southeastern Connecticut and all over the world. Established in 1926 by a gift from Harriet Allyn in memory of her seafaring father, the Museum opened the doors of its beautiful neo-classical building surrounded by 12 acres of green space in 1932. Today it presents a number of changing exhibitions each year and houses a fascinating collection of over 16,000 objects from ancient times to the present; artworks from Africa, Asia, the Americas and Europe, with particularly strong collections of American paintings, decorative arts and Victorian toys and doll houses. The museum is located at 625 Williams Street, New London, Connecticut, exit 83 off I-95. The museum is open Tuesday through Saturday, 10:00 am – 5:00 pm, Sundays 1:00 – 5:00 pm; closed Mondays and major holidays. For more information call 860.443.2545, ext. 129 or visit us on Facebook or the web at: www.lymanallyn.org.