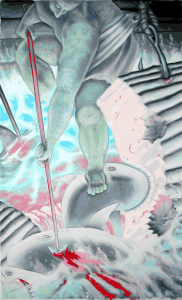 On view:  September 22, 2013 – January 5, 2014
Milloff's Melville features 25 years of Mark Milloff's drawings, paintings, and sculpture inspired by Herman Melville's epic novel Moby Dick.  A professor at the Rhode Island School of Design, Milloff has long been immersed in narratives of the sea. Growing up a stone's throw from what he describes as "the murky canals and mangrove mudflats" of South Florida, Milloff developed an insatiable curiosity about creatures of the sea. That interest eventually provoked his obsession with Moby Dick, which became a potent resource for expressing his own state of mind, as well as plumbing the American imagination past and present.
Milloff  translates Melville's sometimes overwrought language into overheated visual dramas. The congestion of Milloff's Fata Morgana, for instance, mirrors the great omnium gatherum of Moby Dick. Just as Melville combines chapters on art history, cetology, and metaphysics with physical comedy and grotesque humor, Milloff mixes the serious and the comic, the sublime and the mundane.  And where Melville mingles high styles and low styles, sentimental writing and Shakespearian speeches, Milloff works concurrently in several disparate idioms: representational pastels, wall sculptures, and abstract paintings.   The exhibition features examples of each of these modes, along with several of his Poontars, ingenious musical instruments which combine harpoons and guitars, each named for a harpooner aboard Ahab's whaler.   Milloff will lecture on his work—and may even demonstrate his Poontars—on Thursday, October 3, at 6:00 pm.