Annual Exhibit of Nathan Hale Arts Elementary School Student Work
April 23 – May 22, 2022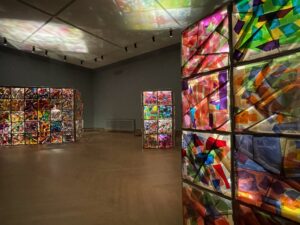 Since 2013, the Lyman Allyn has partnered with Nathan Hale to present student artwork produced over the past academic year. For this year, it was decided to present one large installation piece instead of individual works of art. This piece represents the work of nearly every student and many adults in the school community. The intent is to demonstrate the power of collaboration and the efforts of many to working towards a single goal of creating a thing of beauty that would envelope the entire gallery space.
The visual artwork on display represents a small sample of the work produced throughout the school year. We welcome you to help us celebrate the amazing student work!


Quotes from Grade 4 Students
RE/Building Community looks like a stained-glass window with splashes of color dotted everywhere. Or like the northern lights that go round and round. I love working on it and when it finally was put together it looked so pretty. –Rebecca T.
I liked making the project. It was hard but we did it. –Daniel S-G.
It was fun making cardboard into art. –Zai'Den B.
It looks like an explosion of fireworks. –Oscar S.
It turned out great by using a bunch of teamwork! –Bailey P.
I feel very happy and excited that we are bringing a structure to a museum. –Nicholas D.
Before we were just learning how to do this. Now we are really good at it. –Kailani T.