June 16, 2018 – October 14, 2018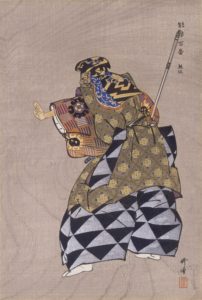 Featuring over 50 Japanese color woodblock prints and several masks, this exhibition explores the art of woodblock prints and the history, stories, and costumes of Japanese Noh theater at the turn of the 20th century. Artist Tsukioka Kōgyo (1869–1927) came of age in the Meji era (1868–1912), a period of modernization when Japan was opened to world trade after more than two hundred years of relative isolation. Kōgyo specialized in depictions of Noh Theater, a classical art form which until then had primarily been enjoyed by social elites. This changed at the end of the 19th century, however, when Noh Theater expanded in popularity and was embraced by the middle class. Kōgyo's numerous paintings were translated into series of woodblock prints, including Pictures of Noh (1897–1902), One Hundred Noh Dramas (1922–1926), and Encyclopedia of Noh plays, (1925–1930).
Organized by independent curator Annemarie Sawkins, Ph.D, this traveling exhibition features prints from the private collection of Professors Mae and Richard Smethurst of the University of Pittsburgh, who have spent much of their academic careers teaching and writing about the classical theater and history of Japan.