Running March 2, 2013 through August 10, 2013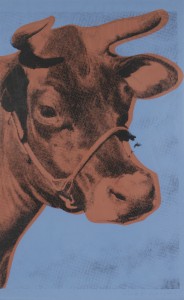 Pop Goes the Easel explores Pop Art of the 1960s and its impact on painting, printmaking, and sculpture in the decades that followed. Curated by Dr. Barbara Zabel, Professor Emeritus of Art History at Connecticut College, this exhibition includes works by the male Pop stars Andy Warhol, Claes Oldenburg, Robert Indiana, and Roy Lichtenstein—as well as works by women artists who received less attention in that male-centered decade, including Idelle Weber, Marjorie Strider, and Niki de Saint Phalle. These artists chose banal subjects such as soup cans, cows, race cars, and pin-up girls; they appropriated the look of advertising, commercial art, and comic strips; and they adopted commercial techniques such as stenciling and silk screening.
By exploding traditional notions of easel painting, Pop artists of the 1960s radically expanded the possibilities of how art is made and how it is viewed. Pop Art and its Progeny explores the social and political avenues opened up by Pop for more recent American artists Barbara Kruger, Shepard Fairey, and Nancy Davidson, as well as for those working on the global stage, including Chinese artists Li Lihong and the Luo Brothers. This exhibition shows how Pop Art freed later artists to pursue new directions and to broaden their perception—and our understanding—of the world around us.
Andy Warhol, Cow, screenprint on wallpaper, 1971, 45 1/2 x 29 3/4 inches, Lyman Allyn Art Museum, Gift of Raymond Macrino, 1971.282.