September 14  – 28, 2022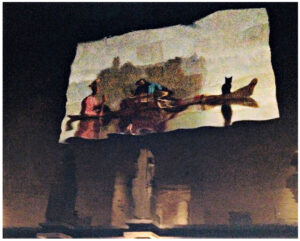 In 2002 I chanced on this moment in time which for me represented culture changing in front of my eyes, received art history becoming fluid, its meaning and impact no longer static, known art loosened from its foundations, no longer items permanently held in a museum collection.
Glimpsed briefly as the paintings were flashed for a few seconds on a wall in the Temple of Dendur at the Metropolitan Museum's re-opening of the American Wing, and reflected in the pool there, I grasped these fugitive moments on an antiquated cell phone.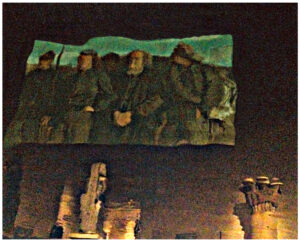 My artistic practice has long been focused on water in its various guises, and here for a brief period I could see how paintings I loved could seem to be swimming in water, known images altered and reversed, i.e. reflections. The American Wing at the museum had always been a place of pilgrimage for me, learning as a new American how a nation had begun to think of itself.
During the pandemic we all underwent great changes in our lives. Thinking deeply about the impact of being shut away from museum and art experiences. I revisited these photographic images and turned to Martin Axon, master printmaker, who helped me realize them in this format. Together, masked and gloved, we worked to make them into these pigment prints.
I hope that these works might stimulate the viewer to think about culture, to question our received artistic heritage, and imagine ways in which it might change and impact us in the future.
— Judy Cotton