July 23 – October 16, 2022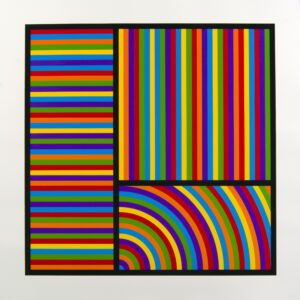 Examining friendship, humor, and collaboration in modern and contemporary art, with art from the Sol LeWitt Collection.
The pioneering conceptualist artist Sol LeWitt (American, 1928–2007) collaborated with many artists and cultivated deep and lasting artistic friendships, acquiring a wide range of modern and contemporary art. Exploring LeWitt's own art and that of his friends and contemporaries, this exhibition focuses on vibrant, dynamic, and humorous objects, with loans from the LeWitt Collection in Chester, Connecticut, and related art from the Lyman Allyn's collection.
With close to 40 objects, the exhibition includes art from the late 1960s onward, as artists sought new ways of working and exploring ideas, rejecting traditional art forms and methods. Sol LeWitt: Artist and Collector at Play includes work by John Baldessari, Alighiero Boetti, Jenny Holtzer, Jean-Michel Basquiat, Mel Bochner, Robert Lazzarini, and On Kawara, among others.