February 14 – August 2, 2020
This engaging exhibit highlights the lives of five exceptional residents of New London County, past and present—attorney Lonnie Braxton, Rev. Florence Clarke, Sonalysts Board member Donetta Hodge, Coast Guard Commander (Ret.) Merle Smith, and 19th century freed slave and teacher Ichabod Pease. Stories of Resilience showcases their determination, bravery and strength in the face of personal and systemic racism. Developed from the Jewish Federation of Eastern CT's Encountering Differences Program, the exhibit paints a picture of remarkable successes in the face of daunting obstacles through personal photographs, artifacts, and video testimonies.
This exhibition is generously supported in part by the Frank Loomis Palmer Fund, Bank of America, Trustee.We extend a special thank you to Todd Gipstein for creating all of the visual display panels and videos for this exhibition.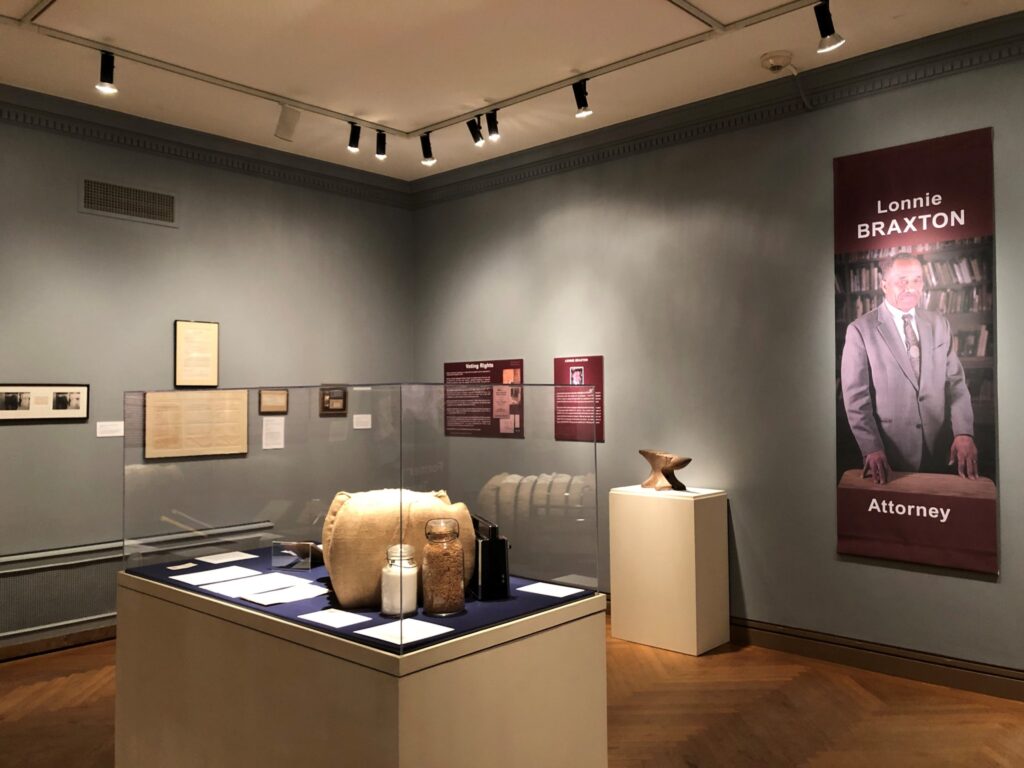 Lonnie Braxton was born in Greenville, Mississippi on February 9, 1948, the son of sharecroppers who had recently left the plantation. Educated in segregated Catholic schools, he joined the Naval ROTC as a sophomore in high school and served in the Navy, two years on active duty and over four years in the reserves.
He arrived in New London in November 1968 having chosen Connecticut as a place of opportunity in both industry and education. Over a period of fifteen years of part-time study while working at Electric Boat and pursuing business interests, he earned a BA from Connecticut College in 1986 and two years later earned a law degree from the University of Connecticut Law School. He currently serves as Senior Assistant State's Attorney in the Juvenile Court in Waterford, Connecticut.
Florence Gilliard Clarke was born in Charleston, South Carolina on February 21, 1941. She was nine years old when her father died and fifteen when her mother passed. She was raised by her maternal grandmother Sarah Abner and her great aunt Victoria Jenkins. Her paternal grandmother, "Gals" Glover, was of Gullah heritage, a creole culture that preserved African linguistic and cultural traits from various African ethnic groups. In keeping with Gullah tradition, "Gals" wove baskets and raised vegetables, selling both in the former slave market in downtown Charleston. She also grew medicinal herbs for the family.
Clarke graduated from the historically black college of South Carolina State University in 1963 with a BS in Business Administration and Education. She taught in segregated schools in South Carolina before coming to New London with her future husband, George R. Clarke, Jr. when he was transferred to the Naval Submarine Base in 1968. They married two years later.
Widowed at the age of 44, Clarke supported her two daughters through her work at General Dynamics Electric Boat (1968-1996). After retiring, she returned to teaching, working in the Montville, East Lyme, New London, and Waterford school systems. Because of her longstanding connection with and positive impact on Waterford students, she was the keynote speaker at their high school graduation in 2002.
Clarke became a Deacon of the African Methodist Episcopal (AME) Zion Church in June of 1979 and an Elder in 1981. She studied theology at the Hartford Seminary and Yale Divinity School and organized the Clarke Memorial Church in 1996 in memory of her husband. It merged with the Walls Temple Church in 2013 and became the Walls Clarke Temple AME Zion Church in New London. She retired from the pastoral ministry in June 2017.
Donetta Davis Hodge was born on January 6, 1948 in Kansas City, Kansas. She came to Connecticut with her parents at the age of five. Her father was in the military and they lived in off-base naval housing. After her parents' contentious divorce in 1955, she lived with a foster parent in New London. Life was difficult and the BP Learned Settlement House in New London, community after school program, became a refuge.
She put herself through college, attending Mitchell College and receiving an Associate Degree in 1976, a BS in financial accounting in 1987, and an MBA from the University of New Haven in 2004. She held positions of increasing responsibility at Tunxis Sportswear, the Redevelopment Agency for the City of New London, and the Defense Contract Audit Agency (DCAA) for the Federal Government. In 1987 she was recruited by Sonalysts where she worked in auditing, financial accounting and administering the company's affirmative action program. Her responsibilities included encouraging minority students to study engineering and technology and recruiting them for employment. Hodge is married to Morris J. Hodge, Sr. and is the mother of two children, one deceased.
Today Hodge is active in many community organizations and programs including the Dr. Martin Luther King Scholarship Trust Fund. She continues to advocate for educational programs to break down racial bias. Hodge currently serves on the Boards of Directors for Sonalysts, the Dr. Martin Luther King Jr. Scholarship Board, and the Child & Family Agency where she serves as Treasurer.
Merle J. Smith, Jr. was born on August 11, 1944 in Greenville, South Carolina, his mother's hometown. At the time, the family was living in Washington DC, where his father, who had been drafted into the Army, was stationed. As a military child, Smith grew up in various locales, including Germany and Japan. In keeping with his family tradition of military service, Smith enrolled in the Coast Guard Academy (CGA) in 1962 and became the first African American to graduate from the Academy in June 1966, earning a BS degree in Engineering. He later served in Vietnam and received numerous awards for his service.
Smith received his law degree from George Washington University in 1974 and eventually became general counsel for General Dynamics Electric Boat Division. He met his wife Lynda while in law school and they raised two children together.
Ichabod Pease was born into slavery on September 10, 1755 on Fishers Island. He was given by his owner, James Mumford, to his son Robinson. Pease learned to read thanks to Sarah Colt Mumford, Robinson's wife. Pease married his wife Rose sometime after the outbreak of the Revolutionary War.
When Mumford, a Tory Loyalist during the American Revolution, planned to move south, Pease escaped rather than be separated from Rose, who belonged to a different household. A fugitive, Pease hid in New London, perhaps supporting himself as a shoemaker. Mumford sold his land and fled to the south, and Pease, left behind, had hopes of freedom. But Mumford had left debts behind. Pease was located, attached by writ for a debt to Captain John Deshon, and transferred as "property" to him in 1783. Deshon emancipated him on June 27, 1794. Pease, as a free man, continued to serve Deshon. Rose was emancipated by Captain Robert Froud in 1796, who also gave her lifetime use of his house and furnishings after his death in gratitude for her devoted service. She and Pease lived in Froud's former house on what is now Jefferson Avenue.
After Deshon's death, Pease worked as a gardener for General Jedidiah Huntington, who had served on the staff of George Washington. Pease was a communicant for 60 years at St. James Church, where he came to know Bishop Samuel Seabury. At age 81 he opened a school for "colored children" in a back lot near the church.
Pease died on March 3, 1842 at age 86. At his funeral, "the most eminent citizens sought the privelage of acting as bearers…" Benjamin Stark, in his Historical Sketch of the Schools of New London states: "He deserved to be commemorated among those who have contributed to the cause of popular education in this town."