The Artist's Journey, organized by the Griffis Art Center, is a three part international art exhibition. In celebrating 25 years of hosting international artists in New London, the Griffis Art Center invites you to share in the intimate world of these artists who worked, taught, lived and socialized in the New London community during their nine month residencies. The Artist's Journey will be on view through September 27, 2015 in the Lyman Allyn's Glassenberg Gallery.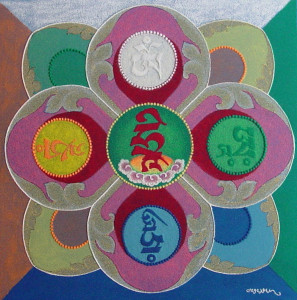 Concerning the Diamond Sutra
June 16 – July 19, 2015
The first exhibition in the series is inspired by a painting by Adão Odacyr Pinheiro from the Federative Republic of Brazil. The exhibition features paintings, sculptures, photographs, and mixed media pieces by artists from the Republic of Bulgaria, Republic of Poland, Germany, United Kingdom, Islamic Republic of Iran, State of Eritrea, Ukraine, North and South Vietnam, Australia, Canada, United States of America, Kingdom of Spain, Republic of Senegal, State of Israel, India, Federative Republic of Brazil and the People's Republic of China.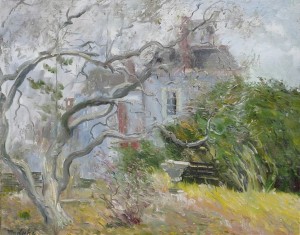 This is a Garden of Arts
July 22 – August 23, 2015
The second exhibition in the series is inspired by a gift of calligraphy by Zhang Zhibang, in the Winter of 1992, "Year of the Monkey" while visiting his son Christopher Z.Y. Zhang who is from Shanghai, People's Republic of China. Artworks selected for this exhibition represent a diversity of artists that painted and worked in New London and the surrounding areas – many in a realistic or impressionistic style of painting.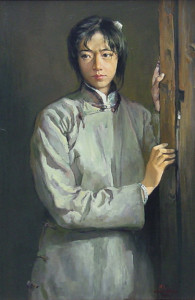 Life is Life and Blue is Blue 
August 26 – September 27, 2015
The third exhibition in the series is inspired by the title of a painting by Mathias Marrum who was born in the Federal Republic of Germany (former West Germany) but arrived to the Griffis Art Center from Mojacar, Almeria, and Kingdom of Spain. Color and emotion were the foremost influences in the selection of artwork for this exhibition: with a choice of work by artists from over forty-five countries with almost as many different artistic styles and beliefs.