December 3, 2022 – January 28, 2023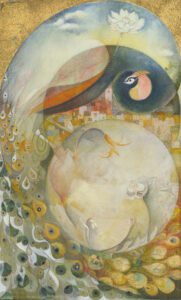 This winter, the Lyman Allyn presents new works by Pamela Zagarenski, artist, writer and Caldecott Honor Award-winning illustrator of books including Sleep Like a Tiger, Aesop's Fables and Red Sings from Tree Tops. With paintings that draw on sacred geometry and healing traditions from around the world, The Circle Game invites visitors young and old to enter into paintings brimming with animals, mystical figures and faraway places. Evoking the wonder of both the extraordinary and the mundane, this exhibition celebrates the dualities of life—light and dark, love and hate, good and bad—in a spirit of magical exploration.
Exhibition Opening
Friday, December 2 • 5 – 7 PM
Members free / Non-members $10
Please call 860.443.2545 ext. 2129 or email us to RSVP.