FOR IMMEDIATE RELEASE
THE LYMAN ALLYN ART MUSEUM ACQUIRES TIFFANY STAINED GLASS WINDOW
October 15, 2014
Lyman Allyn Art Museum
Press Contact: Rebecca Marsie, Communications Coordinator
860.443.2545 x112 / [email protected]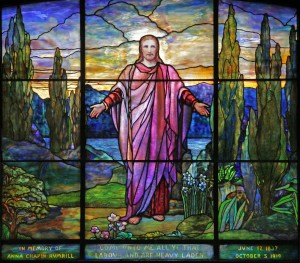 New London – The Lyman Allyn Art Museum is delighted to announce the acquisition of a magnificent stained-glass window created by the renowned Tiffany Studios in New York. In 1924, Come Unto Me was installed above the pulpit in the All Souls Unitarian Universalist Church of New London, CT and was dedicated to the memory of Anna Chaplin Rumrill, a member of that congregation. This exquisite work of art depicts a beatific Jesus standing with outstretched arms in the foreground of a lustrous landscape with mountains, a lake, and cypress trees. The large window (72" tall x 76" wide) is signed by Louis Comfort Tiffany and composed entirely of Favrile glass.
On October 9th, 2014, the Board of the All Souls Congregation agreed to sell the Tiffany window to the Lyman Allyn Art Museum. By accepting the Museum's offer, the Congregation ensures that the prized window remains on public view in New London.
"The acquisition of this glorious work of art by one of America's most treasured designer/artists is a major event in our institution's history and one that will make a dramatic impact on our collection," said D. Samuel Quigley, Director of the Lyman Allyn. "We are honored to be working with the All Souls Congregation to keep this treasure here in New London, ensuring that it remains available for all in our community to enjoy for generations to come."
By stepping forward to purchase the window, the Lyman Allyn Art Museum has committed to providing gallery space and special care for the window. Come Unto Me will be an extremely important new addition to the Museum's collection, complementing the dozens of small vessels and wares by Tiffany that are already housed in the Lyman Allyn.
The Lyman Allyn plans to install the Tiffany window in a special gallery celebrating the art of Louis Comfort Tiffany and his connection to New London. "We look forward to creating a beautiful gallery which will present the compelling story of Tiffany's artistry and his place in New London's history. Envision a darkened gallery with the brilliant rear-illuminated stained-glass window as its centerpiece. With other works and text panels for context, the learning possibilities are nearly boundless," said Quigley.
By a fortuitous set of circumstances, there is a long history of the Tiffany family in the City of New London, and an accompanying large concentration of Tiffany stained-glass windows. Annie Olivia Tiffany Mitchell, sister of Louis Comfort Tiffany, married Alfred Mitchell and made their summer home overlooking the Thames River in New London; their estate is now the site of Mitchell College.  Mitchell and Tiffany became acquainted with members of the local community, and many commissions for stained-glass windows consequently came their way. Louis Comfort Tiffany designed five large windows for St. James Episcopal Church and other impressive windows for the Palmer Mausoleum in Cedar Grove Cemetery, the Pequot Chapel, and the Lighthouse Inn.
Lyman Allyn's acquisition of Louis Comfort Tiffany's Come Unto Me keeps this cherished treasure in New London, and furthers the Museum's commitment to serve as a cultural, educational and community resource for the people of Southeastern Connecticut. The Tiffany window will stand as a unique source of inspiration and learning about the decorative arts for the Museum's visitors and will strengthen their sense of history, aesthetics, and civic pride by forever connecting Tiffany's artistic legacy with the story of New London.
For more information or to request images, please contact Rebecca Marsie at 860.443.2545, ext. 112 or at [email protected].
About the Lyman Allyn Art Museum
Lyman Allyn Art Museum is a distinguished art museum located in New London, Connecticut.  Founded in 1932 by Harriet Upson Allyn in memory of her father, Lyman Allyn, the museum serves the people of Southeastern Connecticut and general admission is always free to New London residents. Housed in a handsome Neo-Classical building designed by Charles A. Platt, the permanent collection includes over 10,000 objects from ancient times to the present: artworks from Africa, Asia, the Americas, and Europe, with particularly strong collections of American paintings, decorative arts, and Victorian toys and doll houses.
The museum is located at 625 Williams Street, New London, Connecticut, exit 83 off I-95.  The museum is open Tuesday through Saturday, 10:00 am – 5:00 pm, Sundays 1:00 – 5:00 pm; closed Mondays and major holidays. For more information call 860.443.2545, ext. 129 or visit us on Facebook or the web at: www.lymanallyn.org.