FOR IMMEDIATE RELEASE
August 16, 2016
Lyman Allyn Art Museum
Press Contact: Rebecca Marsie, Communications Associate
860.443.2545 x112 / [email protected]
THE LYMAN ALLYN ART MUSEUM OFFERS ART HISTORY FOR ALL COURSE
New London – The Lyman Allyn Art Museum is pleased to announce the first class of this year's lifelong learning program, Art History For All… This Fall's course, beginning September 22, is entitled, "Birth of the Modern: Paris, New York and the Age of Abstraction (1848 – 1948)."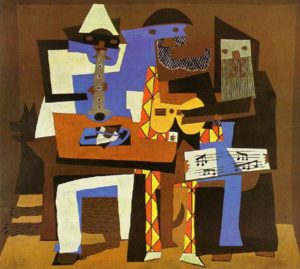 Richard J. Friswell, cultural historian and award-winning writer, will lead this five-week art history series at the Lyman Allyn Art Museum. This course will explore the people, historical events and artistic movements that formed the basis for the Age of Abstraction. Selected readings, visuals and musical excerpts will be presented in class, underscoring and illustrating the sights, sounds and voices that comprised the evolution of Modernism.
Course Overview
1848 was a touchstone year in the history of European socio-political change. In that year, the violence surrounding the establishment of France's Second Republic paralleled far-reaching conflicts in neighboring European nation-states. Through a fascinating chain of events following this short-lived period of civil unrest, France's modern art movement was conceived, fostering a radical shift in artistic expression which reverberated well beyond its borders.
At the fin de siècle, Paris was the center of the cultural universe. From its progressive heart arose new ways of thinking about art, literature, music—even life itself. It was not long before these modernist influences were being felt across the Atlantic in New York City, the New World's version of Europe's "City of Light." The creative and intellectual ties that bound these two metropolises led to an active exchange of inspiration and creative expression.
Eventually though, Paris's star faded in the wake of two destructive world wars and the rise of radical socialism. By mid-20th century, the world would be looking to New York for the next generation of influential artists, writers and musicians. In the post-war period—a mere hundred years since France's defining cultural moment—the spotlight would shift to a group of American artists and their radical forms of abstract expression, as they defined modern art for decades to come.
Weekly classes will be held in the auditorium of the Lyman Allyn Art Museum. Advanced reservations are required. Please contact the Education Department at 860.443.2545 x110 or email [email protected]
Class Information
Classes: 5 Thursdays: Sept. 22, 29, Oct. 6, 13, 20 (10:00 am – 12:00 noon)
Fee: $125 members / $150 non-members
For more information or images, please contact Rebecca Marsie at 860.443.2545 x112 or at [email protected]
About Richard Friswell
Richard J. Friswell has a master of education from Boston University and a master of philosophy in liberal arts from Wesleyan University (`14), where he was awarded the Rulewater Prize for interdisciplinary scholarship. He is associate director of Wesleyan University's Institute for Lifelong Learning and publisher and managing editor of ARTES, an international fine arts e-magazine. He is an elected member of the Association Internationale des Critiques d'Art, one of only 450 individuals in the United States, and an award winning writer, with two national medals from Folio:Magazine for his editorial contributions in the field of art journalism. His collection of essays, Balancing Act: Postcards from the Edge of Risk and Reward. Was published by Hammonasset House Books in 2016. He lectures widely on topics of modern cultural history at museums, academic settings and other venues.
About the Lyman Allyn Art Museum
The Lyman Allyn Art Museum welcomes visitors from New London, southeastern Connecticut and all over the world. Established in 1926 by a gift from Harriet Allyn in memory of her seafaring father, the Museum opened the doors of its beautiful neo-classical building surrounded by 11 acres of green space in 1932. Today it presents a number of changing exhibitions each year and houses a fascinating collection of over 16,000 objects from ancient times to the present; artworks from Africa, Asia, the Americas and Europe, with particularly strong collections of American paintings, decorative arts and Victorian toys and doll houses.
The museum is located at 625 Williams Street, New London, Connecticut, exit 83 off I-95. The museum is open Tuesday through Saturday, 10:00 am – 5:00 pm, Sundays 1:00 – 5:00 pm; closed Mondays and major holidays. For more information call 860.443.2545, ext. 129 or visit us on Facebook or the web at: www.lymanallyn.org.