FOR IMMEDIATE RELEASE
August 3, 2016
Lyman Allyn Art Museum
Press Contact: Rebecca Marsie, Communications Associate
860.443.2545 x112 / [email protected]
THE LYMAN ALLYN ART MUSEUM PRESENTS THE DISTANCE BETWEEN US
Photographs by Christopher Capozziello
New London – The Lyman Allyn Art Museum is proud to announce the opening of The Distance Between Us. The exhibition will be on view from August 6 through October 2, 2016.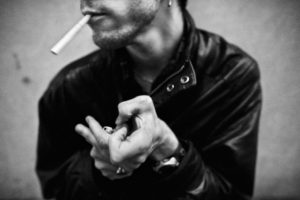 The Distance Between Us, the latest exhibition in Lyman Allyn's Near :: New contemporary series, showcases recent work by photojournalist Christopher Capozziello.  Here, Chris turns his camera on his own life, and that of his twin brother Nick, who has cerebral palsy. He confronts their differences and the anger and shame he carries over being the healthy twin. Sharing this story was not something Chris ever set out to do; over the years, one picture led to another, and a story emerged.
The Distance Between Us began as a book, and we are thrilled to see Chris's exceptional work come to life as an exhibition," says Sam Quigley, Director of the Lyman Allyn. Featured are 33 black and white photographs that reveal the effects of cerebral palsy on Nick's life. Raw, intimate, and deeply affecting, the images allow the viewer to take a deeper look into a world many normally wouldn't see.
Along with these primary works, two mirrored sets of small color photographs by Chris and Nick not only document a cross-country journey they took, but attempt to answer a different sort of question: what's next for the brothers?
In his own words Capozziello says, "The time I have spent with my brother, looking through my camera, has forced me to ask questions about suffering and faith and why anyone is born with disability."
The opening reception will be on August 5 from 5:00 – 7:00pm. Museum members are free and non-members are $10.  Please RSVP to 860.443.2545 ext. 129.
For more information or to request images, please contact Rebecca Marsie at 860.443.2545, ext. 112 or at [email protected].
About the Artist
Christopher Capozziello (born 1980) is a freelance photographer and a founding member of AEVUM. His work focuses on documenting both life around him, and stories that are outside of his own experiences. He believes that there is a redemptive quality to photography; that it can take the unpleasant or repulsive and make it beautiful, not by misleading anyone, but by allowing the viewer to stop and take a deeper look at the subject. As a photojournalist, his method of making pictures is not something new or incredibly deep – it is, simply, to tell the truth.
His work has been recognized by World Press Photo, the Alexia Foundation, the Golden Light Awards, the National Headliner Awards, and the China International Press Photo Contest. Christopher's clients and publications include The New York Times, TIME, Newsweek, L'Express, The Dallas Morning News, The Wall Street Journal, World Vision, Christianity Today, Samaritan's Purse, Open Society Institute, and The Sunday London Times Magazine, among others.
About the Lyman Allyn Art Museum
The Lyman Allyn Art Museum welcomes visitors from New London, Southeastern Connecticut and all over the world. Established in 1926 by a gift from Harriet Allyn in memory of her seafaring father, the Museum opened the doors of its beautiful neo-classical building surrounded by 11 acres of green space in 1932. Today it presents a number of changing exhibitions each year and houses a fascinating collection of over 16,000 objects from ancient times to the present; artworks from Africa, Asia, the Americas and Europe, with particularly strong collections of American paintings, decorative arts and Victorian toys and doll houses.
The museum is located at 625 Williams Street, New London, Connecticut, exit 83 off I-95. The museum is open Tuesday through Saturday, 10:00 am – 5:00 pm, Sundays 1:00 – 5:00 pm; closed Mondays and major holidays. For more information call 860.443.2545, ext. 129 or visit us on Facebook or the web at: www.lymanallyn.org.