FOR IMMEDIATE RELEASE
February 19, 2016
Lyman Allyn Art Museum
Press Contact: Rebecca Marsie, Communications Associate
860.443.2545 x112 / [email protected]
THE LYMAN ALLYN ART MUSEUM PRESENTS TIME AND AGAIN
Recent work by Michael Peery
New London – The Lyman Allyn Art Museum is proud to announce the opening of Time and Again. The exhibition will be on view from February 27 through April 24, 2016.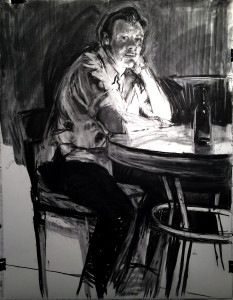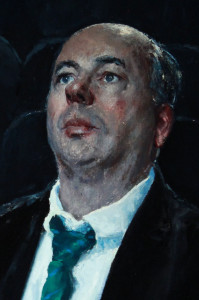 (Left to right: Preliminary Drawing-Young man at back table; "Untitled" detail, oil on linen, 48×60 inches.)
Time and Again, the second exhibition in the Lyman Allyn's Near :: New contemporary series, shows recent work by New London artist, Michael Peery. Featured are two large canvases rendering an imaginary scene entitled The Kiss, a private moment in a public house that may raise more questions than it answers. According to Peery, the first canvas, completed in 2002, begged for a new version, which was just recently finished. Displayed in between the two, are seven large and commanding charcoal studies revealing part of the artist's reconsideration of the subject and his development of the new painting.
Along with these primary works, and further documenting Peery's process, is a display of several additional visual moments along the journey. A video, presented on a flat screen also installed in the Glassenberg Gallery, extends the exploration of the genesis and realization of the painting, and completes this window into the work within the studio and the consciousness of the artist. Several other recent canvases showing different subject material round out the exhibition of contemporary figurative work, inviting viewers to explore Peery's process for developing an idea from conception to completion. By using thumbnail sketches, color studies, and preliminary drawings, Peery hopes to show how this process provides visual and thematic guidance for his finished work.
"Throughout my artistic career, I have come into ideas inspired by circumstance, environment and meaningful events" said Peery. "Some ideas are fragile and seem incapable of withstanding close scrutiny or the test of time. Others do stand up and join the backlog of imagery in my mind that insistently call out to be realized. This exhibition has provided me with the chance to address many of these that seem to linger and remain, no matter how I develop artistically. The genre of narrative painting enables me to explore metaphor, symbolism and ambiguities that other genres, in my opinion, tend to restrict. The best narrative paintings ask questions left unanswered by the painter. It is the viewer who is tasked with finished the story."
Regarding his work Peery states, "Time and Again is a journey I started many years ago, and one that will remain underway—in sketchbooks, bar napkins, or finished canvases—for many years to come."
The opening reception will be on February 26th from 5:00 – 7:00pm. Museum members are free and non-members are $10. Please RSVP to 860.443.2545 ext. 129.
For more information or to request images, please contact Rebecca Marsie at 860.443.2545, ext. 112 or at [email protected].
About the Lyman Allyn Art Museum
The Lyman Allyn Art Museum welcomes visitors from New London, Southeastern Connecticut and all over the world. Established in 1926 by a gift from Harriet Allyn in memory of her seafaring father, the Museum opened the doors of its beautiful neo-classical building surrounded by 11 acres of green space in 1932. Today it presents a number of changing exhibitions each year and houses a fascinating collection of over 16,000 objects from ancient times to the present; artworks from Africa, Asia, the Americas and Europe, with particularly strong collections of American paintings, decorative arts and Victorian toys and doll houses.
The museum is located at 625 Williams Street, New London, Connecticut, exit 83 off I-95. The museum is open Tuesday through Saturday, 10:00 am – 5:00 pm, Sundays 1:00 – 5:00 pm; closed Mondays and major holidays. For more information call 860.443.2545, ext. 129 or visit us on Facebook or the web at: www.lymanallyn.org.