June 19 – October 3, 2021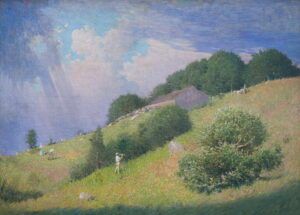 The Prismatic Palette examines the art and teaching legacy of Frank Vincent DuMond (1865–1951). A key figure in American art and art education, DuMond was a skilled painter and draftsman with great technical facility and a keen eye for color. He studied in Paris at the Academie Julian from 1889 to 1891 and upon return to the U.S., he found work as an illustrator for Harpers, Century, and other publications. DuMond began teaching at the Art Students League of New York in 1892, and soon spent summers teaching and painting landscapes en plein air. DuMond and his wife Helen, also an artist, were founding members of the Lyme Art Colony and lived in Lyme, CT beginning in 1906.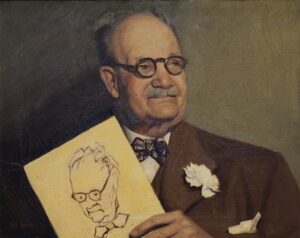 The Prismatic Palette celebrates and reexamines the art of Frank Vincent DuMond, exploring his career and output and considering the ways that his teaching and ideas have influenced a range of artists. He taught for nearly 60 years at the Art Students League, guiding and instructing multiple generations of artists, including such notable figures as John Marin and Norman Rockwell. With approximately 50 objects on view, including many loans from private and public collections, the exhibition will trace the range and nuances of DuMond's art and will explore the work of his students. One section will focus on color theory and the development of DuMond's "prismatic palette," an influential method of mixing color strings that continues to be taught and used by painters today.
The Prismatic Palette

Virtual Exhibit Opening
Held on June 18, 2021

Virtual Lecture: DuMond's Prismatic Palette in Practice
Held on August 11, 2021