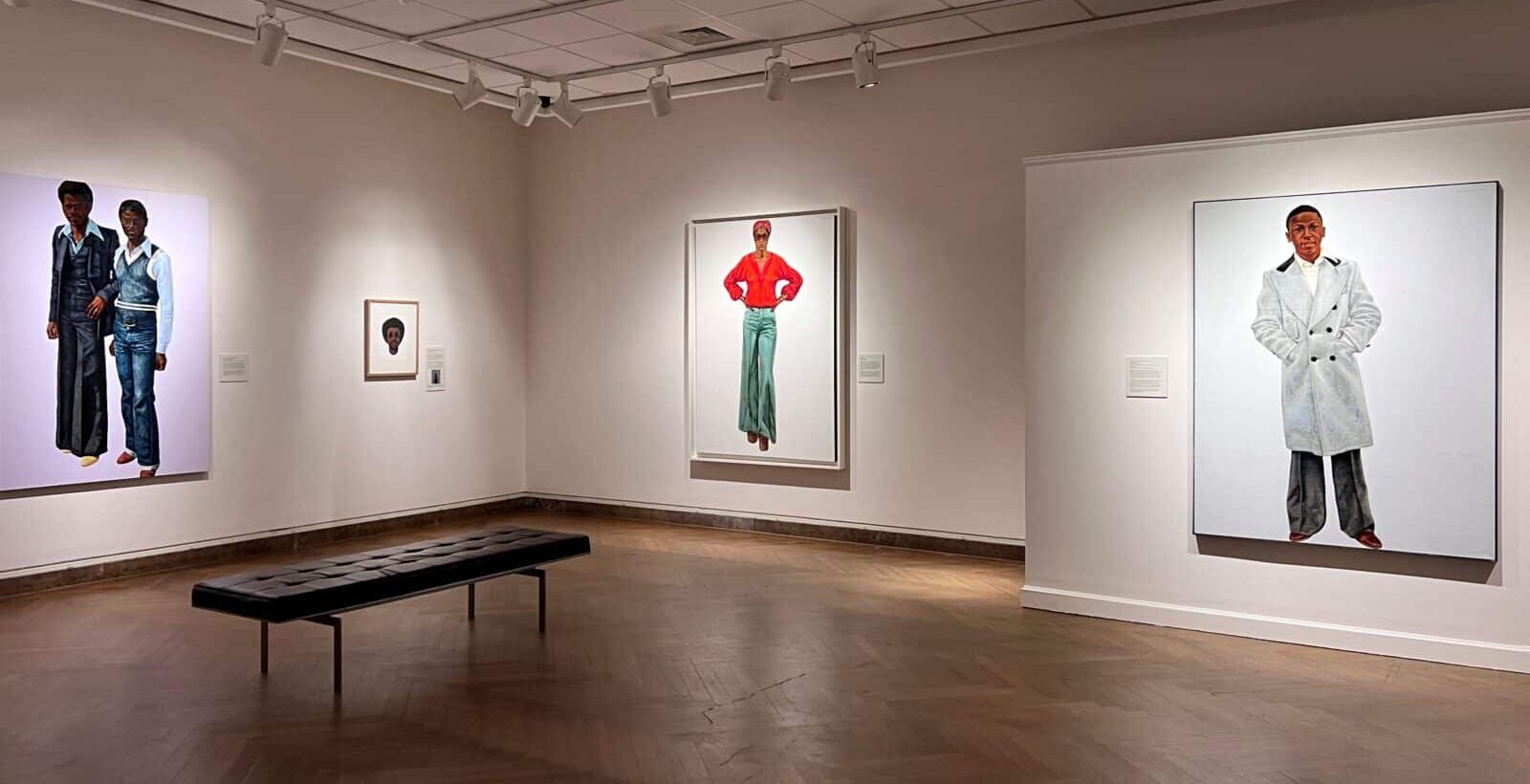 Looking at Legacy: Reflecting on Barkley L. Hendricks with Connecticut Arts Leaders
Featuring Dr. Kalia Brooks, Prof. Kate Rushin, Dr. Alexis Boylan, Mr. Marvin Espy
With Dr. Tanya Pohrt, and Mr. Lonnie Braxton, Esq.
Join us for a panel symposium reflecting on Barkley L. Hendricks' artistic legacy and on issues of place, community, and teaching in the arts and humanities.  Hear regional arts leaders discuss their work, including Kalia Brooks, Director of Programs and Exhibitions at NXTHVN, Kate Rushin, Distinguished Visiting Poet at Connecticut College, Alexis Boylan, Director of Academic Affairs at UCONN Humanities Institute, and Marvin Espy, distinguished artist living and working in New London. The panel will consider Barkley L. Hendricks' artistic contributions and resonance in this region, discussing the role of the humanities, teaching, community, race and representation, and the importance of art.
Cost: Free
Reception: 5 pm
Program: 5:30 pm
About the Speakers
Kalia Brooks, PhD, is the Director of Programs and Exhibitions at NXTHVN. She is responsible for the design and delivery of curatorial exhibitions, public programs, artist projects, community engagement initiatives, and the learning environment for the fellowship and apprenticeship programs.  Her academic research covers art from the nineteenth century to the present, with an emphasis on emergent technologies and African American, trans-Atlantic, and diasporic cultures of the Americas. Brooks holds a PhD in Aesthetics and Art Theory from the Institute for Doctoral Studies in the Visual Arts (IDSVA). She is co-editor of Women and Migration: Responses in Art and History (Open Book Publishers, Cambridge, UK, 2019 and 2022). Brooks has served as a consulting curator with the City of New York through the Department of Cultural Affairs, and was an ex-officio trustee on the Board of the Museum of the City of New York during the de Blasio administration.
Kate Rushin is Professor of English and Poet in Residence at Connecticut College. She is the author of "The Bridge Poem" and The Black Back-Ups.  Her work is widely anthologized and appears in African American Poetry: 250 Years of Struggle & Song, edited by Kevin Young, and the companion site, "Lift Every Voice." She has received fellowships from the Artists Foundation, The Fine Arts Work Center in Provincetown and The Cave Canem Foundation, as well as commissions from The International Festival of Arts and Ideas and The Hartford Public Library. Additionally, Rushin has worked with several projects in The Connecticut Office of The Arts. She performs her poetry with the jazz bassist Nat Reeves, and has been featured at the Sunken Garden Poetry Festival in Farmington, CT, and The Poets House Brooklyn Bridge Poetry Walk
Alexis L. Boylan is the Director of Academic Affairs of the University of Connecticut Humanities Institute (UCHI) and an Associate Professor with a joint appointment in the Art and Art History Department and the Africana Studies Institute. Her research focuses on the visual culture of the United States from the colonial to the contemporary periods with particular emphasis on race and gender. She is the author of several books and has published in American Art, Archives of American Art Journal, Boston Review, Journal of Curatorial Studies, and Public Books. Her next book focuses on the art created for the American Museum of Natural History (AMNH) in New York City, considering how art and science antagonize and inspire cultural dialogues about truth and knowledge.
Marvin Espy, originally from Cincinnati, studied oils under the late Henry Koerner at the Art Institute of Pittsburgh, where he earned a degree in Visual Communications. He spent the next 28 years in Business Development and Sales before returning to his art practice in 2013 with a series of exhibitions in the Charlotte, North Carolina region.   Since 2013, Marvin has been featured in the Charlotte Business Journal – Book of List (2013, 2016), and in 2018 his work adorned the cover, SouthPark Magazine (2018), Charlotte Post (2018), Charlotte Magazine (2020), The Day (2021), The Day (2022) to mention a few.  Additional art appearances at "Art with Heart", "Art Unleashed". In 2018 Marvin was 1 of 20 selected from more than 200 entries to ArtPop Street Gallery, earning his place on billboards displayed throughout the Charlotte Region. Today, Espy is a multi-award-winning artist, showing nationally with collectors from LA to New England.
With
Tanya Pohrt: Curator Tanya Pohrt has worked at the Lyman Allyn Art Museum in New London, Connecticut since 2015, curating a range of exhibitions. She holds a Ph.D. in art history from the University of Delaware and was previously a Marcia Brady Tucker Curatorial Fellow in American Paintings & Sculpture at the Yale University Art Gallery. She is the head curator for Barkley L. Hendricks in New London.
Lonnie Braxton II was a close friend of Barkley L. Hendricks. Braxton moved to New London from Greenville, Mississippi in 1968, having chosen Connecticut as a place of opportunity in both industry and education. Over a period of 15 years of part-time study while working at Electric Boat and pursuing business endeavors, he earned a BA from Connecticut College in 1986. Two years later, he earned a law degree from the University of Connecticut Law School. He retired in December 2021 after a law career spanning decades.