For Immediate Release
Lyman Allyn Art Museum Opens Two New Whaling Exhibitions
 September 10, 2013
Lyman Allyn Art Museum
Press Contact:  Carrie Ermler, Director of Development
860.443.2545 x136
Lyman Allyn Art Museum announces two new exhibitions to celebrate the year of the Charles W. Morgan.  Greasy Luck: The Whaling World of the Charles W. Morgan and Milloff's Melville: An Artist Renders the Whale open with a reception for the public on Saturday, September 21, 2013.
Greasy Luck: The Whaling World of the Charles W. Morgan
Greasy Luck is an academic year-long exhibition designed to support the K-12 public school curriculum standards while celebrating how whaling—its myths and reality, risk and reward—left its mark on Connecticut and American identity.  Gov. Dannel P. Malloy announced that the academic year beginning in September 2013 will be dedicated to the Charles W. Morgan, the world's last wooden whaleship, which was recently restored by the master craftsmen of Mystic Seaport Museum. During the 2013-to-2014 academic year, Connecticut students will learn more about the state's whaling history and its historical ties with the sea.
In the 1800s, friends and family gathered on the docks to wish "greasy luck" for a successful voyage to departing whaleships. To most people, whales were mysterious creatures. Yet whaling was big business. The thousands of barrels of oil the whalers brought home made ports like New London and Mystic some of the wealthiest places in the young nation, supporting a wide array of dockside occupations.
Featuring portraits, paintings and artifacts from whaleships and whaling families, Greasy Luck focuses on the ways in which whaling shaped the everyday lives of 19th century Americans, from the lamps that lit their homes to the whalebone corsets they wore. It contrasts the dreams of the young men who went a-whaling with the harsh and dangerous reality of whaling voyages that kept them away from home for years at a time. Harpoons and other tools of the trade are displayed alongside beautifully carved scrimshaw items like pie crimpers and clothespins, which give an idea of the tender, homesick thoughts that occupied many sailors at sea. Stories of 'sister sailors'—captains' wives who went to sea, often with their children—are told through letters, daguerreotypes and miniature portraits, while the whaling economy of  port cities like New London is explored through the tools used by sailmakers, coopers, carpenters, ropemakers and smiths. A focus on the Morgan, a typical 1840s whaleship soon to launch once more on its 38th voyage, completes the whaling journey.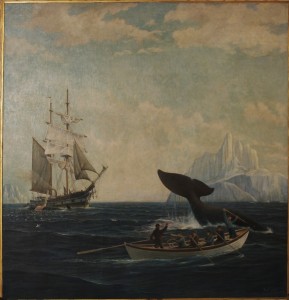 Milloff's Melville: An Artist Renders the Whale
Milloff's Melville features 25 years of Mark Milloff's drawings, paintings, and sculpture inspired by Herman Melville's epic novel Moby Dick.  A professor at the Rhode Island School of Design, Milloff has long been immersed in narratives of the sea. Growing up a stone's throw from what he describes as "the murky canals and mangrove mudflats" of South Florida, Milloff developed an insatiable curiosity about creatures of the sea. That interest eventually provoked his obsession with Moby Dick, which became a potent resource for expressing his own state of mind, as well as plumbing the American imagination past and present.
The exhibition features examples of representational pastels, wall sculptures, and abstract paintings, along with several of his Poontars, ingenious musical instruments which combine harpoons and guitars, each named for a harpooner aboard Ahab's whaler.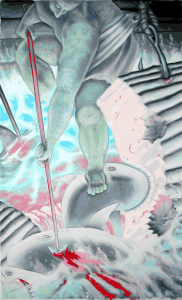 Opening Reception – Saturday, September 21, 5:00 PM – 7:00 PM
Members free, Non-members $10
Check the museum website at www.lymanallyn.org and Facebook page for updates and additional programming.
Tours of the exhibition are available for groups.  To schedule tours, call Director of Education Mollie Clarke at 860-443-2545, x 110 or e-mail at [email protected].
Greasy Luck: The Whaling World of the Charles W. Morgan is generously supported by The Frank Loomis Palmer Fund, Bank of America, Trustee; and with support from The Connecticut Department of Economic and Community Development, and Mystic Seaport.  Programming supported in part by People's United Bank.
For more information or to request images, please contact Carrie Ermler at 860.443.2545, ext 136 or at [email protected]
Lyman Allyn Art Museum is a community-based museum located in New London, Connecticut.  Founded in 1932 by Harriet Upson Allyn in memory of her father, Lyman Allyn, the museum serves the people of Southeastern Connecticut and is free to New London residents. The museum is accredited by the American Alliance of Museums and is a non-profit organization with 501(c) 3 status.  Housed in a handsome Neo-Classical building designed by Charles A. Platt, the permanent collection includes over 10,000 paintings, drawings, prints, sculptures, furniture and decorative arts, with an emphasis on American and European art from the 17th through 20th centuries.
The museum is located at 625 Williams Street, New London, Connecticut, exit 83 off I-95.  The museum is open Tuesday through Saturday, 10:00 am – 5:00 pm, Sundays 1-5pm; closed Mondays and major holidays. For more information call 860.443.2545, ext. 129 or visit us on Facebook or the web at: www.lymanallyn.org.