For Immediate Release
 Lyman Allyn Art Museum Presents KITTY WALES: LIONFISH
June 25, 2013
Lyman Allyn Art Museum
Press Contact:  Carrie Ermler, Director of Development
860.443.2545 x136
KITTY WALES: LIONFISH
Lyman Allyn Art Museum announces a new exhibition KITTY WALES: LIONFISH opening July 20, 2013 and on view through January 5, 2013.
This summer the Lyman Allyn is most fortunate to be able to exhibit the sculptures and works of Kitty Wales. She is a very special artist who is able to combine her keen observations of the natural world with her remarkable creative talents to offer us a fresh look of the uniqueness of a particular species.
Fascinated by the anatomy and movement of living creatures, Kitty Wales creates sculpture and installation art based on her direct observations of animals. She has traveled to the Scottish Hebrides to study wild goats, the Spanish Pyrenees to observe bearded vultures, and the Caribbean to document reef sharks in their underwater habitat.
As part of a collaboration between the Lyman Allyn Art Museum and the Mystic Aquarium, Wales visited the Aquarium to observe their collection of marine life, taking photographs and preparing sketches that would later fuel her creations in the studio. Inspired by the textural, feathery forms of the lionfish, Wales then set to work envisioning a site-specific installation intended for the Lyman Allyn. Three larger-than-life lionfish sculptures constructed of welded steel, recycled paper and mixed media will transform the gallery into a "deep-sea" environment for visitors of all ages. Also included in the exhibition are prints that relate to her Lionfish investigations. Her works not only invite us to look harder, but inspire wonder.
Based in Massachusetts and Maine, Kitty Wales has worked on many site-specific installations at museums throughout New England and elsewhere, including DeCordova Sculpture Park and Museum, Lincoln, MA; the Fuller Craft Museum, Brockton, MA; the Currier Museum of Art, Manchester, NH; and the Fort Lauderdale Museum, FL.  She teaches at Boston University.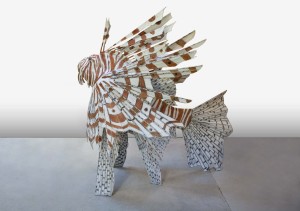 Photo Caption: Lionfish, 2013, h 92 inches x L 107 inches x w 66 inches, steel, paper, mixed media.  Photo Credit: Kathryn Osgood, 2013
Opening Reception – Friday, July 19th, 5:30 PM – 7:30 PM
Members free, Non-members $5
Open to the Public Saturday July 20, 2013
Check the museum website at www.lymanallyn.org and Facebook page for updates and additional programming.
Tours of the exhibition are available for groups.  To schedule tours, call Director of Education Mollie Clarke at 860-443-2545, x 110 or e-mail at [email protected].
KITTY WALES:LIONFISH  is generously supported by The Frank Loomis Palmer Fund, Bank of America, Trustee; and with support from The Connecticut Department of Economic and Community Development, and Mystic Aquarium.  Programming supported in part by People's United Bank.
For more information or to request images, please contact Carrie Ermler at 860.443.2545, ext 136 or at [email protected]
Lyman Allyn Art Museum is a community-based museum located in New London, Connecticut.  Founded in 1932 by Harriet Upson Allyn in memory of her father, Lyman Allyn, the museum serves the people of Southeastern Connecticut and is free to New London residents. The museum is accredited by the American Alliance of Museums and is a non-profit organization with 501(c) 3 status.  Housed in a handsome Neo-Classical building designed by Charles A. Platt, the permanent collection includes over 10,000 paintings, drawings, prints, sculptures, furniture and decorative arts, with an emphasis on American and European art from the 17th through 20th centuries.
The museum is located at 625 Williams Street, New London, Connecticut, exit 83 off I-95.  The museum is open Tuesday through Saturday, 10:00 am – 5:00 pm, Sundays 1-5pm; closed Mondays and major holidays. For more information call 860.443.2545, ext. 129 or visit us on Facebook or the web at: www.lymanallyn.org.