FOR IMMEDIATE RELEASE
February 18, 2015
Lyman Allyn Art Museum
Press Contact: Rebecca Marsie, Communications Coordinator
860.443.2545 x112 / [email protected]
 
LYMAN ALLYN ART MUSEUM PRESENTS LOST GARDENS OF NEW ENGLAND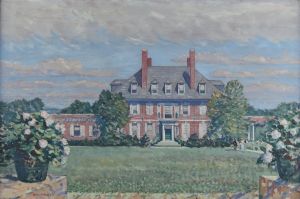 New London – The Lyman Allyn Art Museum is proud to present Lost Gardens of New England, an exhibition exploring the rich heritage of New England gardens, great and small. Lost Gardens of New England will be on view from March 1 through July 31, 2015.
Featuring more than forty images of New England gardens from Historic New England's extraordinary Library and Archives, Lost Gardens of New England is rich in evocative documentary evidence of major themes of American landscape history. The exhibition presents this material to depict several New England gardens, great and small, that no longer exist or only partially survive.
The show includes watercolors, historic photographs, prints, stereo view cards, garden supply catalogues, and even a mid-nineteenth-century nurseryman's bill with a list of plant materials. Landscape drawings provide insight into how these gardens were conceived and visualized by their creators, either amateur or professional.
Also incorporated into the exhibition are profiles of local "lost" gardens and their owners, including Westomere in New London and the now restored gardens of Eolia, the Harkness estate in Waterford. These influential local citizens brought prominent landscape architects such as Frederick Law Olmstead and Beatrix Farrand to New London County in the early 20th century. As such, Lost Gardens of New England tells the stories of the lost gardens in our own backyard, the people who made them, how they came to be and what has become of them today.
The exhibition material is divided into thematic groupings — urban gardens, family gardens, professionally designed landscapes, colonial revival gardens, and landscape structures. Visions of ideal outdoor spaces range from a country gentleman's estate, to a picturesque landscape surrounding a suburban villa, to a romantic garden of the early twentieth century. The images selected illustrate and preserve the legacy of New England's lavish garden design traditions and offer inspiration to all who view them.
The Exhibition reception will be on Saturday, February 28 from 5 – 7pm.
Members free, Non-members $10.
Check the museum website at www.lymanallyn.org and Facebook page for updates and additional programming.
Tours of the exhibition are available for groups. To schedule tours, call Director of Education Mollie Clarke at 860-443-2545, ext. 110 or e-mail [email protected].
For more information or images, please contact Rebecca Marsie at 860.443.2545 x112 or at [email protected].
Exhibitions and programs are funded in part by the Department of Economic and Community Development; Frank Loomis Palmer Fund, Bank of America, Trustee; People's United Bank, sponsor of Free First Saturdays; and Seward and Monde, Certified Public Accountants and Consultants.
About the Lyman Allyn Art Museum
The Lyman Allyn Art Museum welcomes about 25,000 visitors annually from New London, Southeastern Connecticut and all over the world. Established in 1926 by a gift from Harriet Allyn in memory of her seafaring father, the Museum opened the doors of its beautiful neo-classical building surrounded by 11 acres of green space in 1932. Today it presents a number of changing exhibitions each year and houses a fascinating collection of over 15,000 objects from ancient times to the present; artworks from Africa, Asia, the Americas and Europe, with particularly strong collections of American paintings, decorative arts and Victorian toys and doll houses.
The museum is located at 625 Williams Street, New London, Connecticut, exit 83 off I-95. The museum is open Tuesday through Saturday, 10:00 am – 5:00 pm, Sundays 1:00 – 5:00 pm; closed Mondays and major holidays. For more information call 860.443.2545, ext. 129 or visit us on Facebook or the web at: www.lymanallyn.org.