FOR IMMEDIATE RELEASE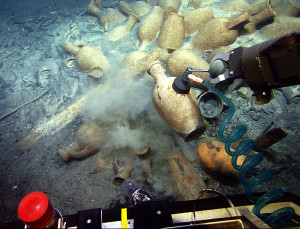 Lyman Allyn Art Museum, in collaboration with Dr. Robert Ballard and the Ocean Exploration Trust, presents Lost at Sea: Shipwrecks of the Ancient World (July 18, 2014 – February 1, 2015).
July 15, 2014
Lyman Allyn Art Museum
Press Contact: Rebecca Marsie, Communications Coordinator
860.443.2545 x112
Lost at Sea: Shipwrecks of the Ancient World will be on view at the Lyman Allyn Art Museum from July 18, 2014 – February 1, 2015. The exhibition explores cultural treasures of the deep seas and features artifacts discovered by underwater explorer Dr. Robert Ballard and his team.
Driven by the desire to explore, trade, and conquer new lands, mariners of the ancient world sailed the waters of the Mediterranean, Aegean and Black Seas, spreading their cultures and their wares, laying the groundwork of Western civilization. Often these daring mariners never reached their destination, their ships falling victim to storms, pirates, or warfare. These cultural and historical goldmines remained lost at sea until modern day explorer Dr. Robert Ballard, and his team of researchers aboard the E/V Nautilus, located them in deep waters using state-of-the art robotic technology, the same technology his team developed and used to find the RMS Titanic and other sunken vessels. This exhibit presents the fascinating story of ancient shipwrecks, their recent discovery and what we can learn about the people who sailed them. Glassware, tools, pottery and other beautifully preserved artifacts, along with stunning underwater video of their discovery, are among the highlights of the exhibit. Visitors will be able to interact with a live feed of expeditions currently underway and have the opportunity to ask questions of researchers in real time.
A goal of these explorations is not only to advance our understanding of ancient civilizations, but to champion the protection and conservation of shipwrecks as time-capsules of history. Many wreck sites, especially in the Black Sea, have been damaged or destroyed by fishing trawlers, leading scientists like marine archaeologist and Nautilus expedition leader Dr. Michael Brennan to attempt to foster awareness of this issue worldwide. His research on the Eregli E wreck site and its destruction by trawling is featured in the exhibit.
Dr. Robert D. Ballard has been a pioneer in the development and use of advanced deep submergence technology. Best known for his 1985 discovery of the RMS Titanic, Dr. Ballard has tracked down other significant shipwrecks, including the German battleship Bismarck, the lost fleet of Guadalcanal, the U.S. aircraft carrier Yorktown (sunk in the World War II Battle of Midway), and John F. Kennedy's boat, PT-109. Among the most accomplished and well known of the world's deep-sea explorers, discoverers and historians, Dr. Ballard's fascinating journeys can teach us a great deal about our past and they encourage others to take strides in surveying the undiscovered mysteries of the deep sea.
The Exhibition is open to the public beginning July 18, 2014.
Admission is Always Free to All New London Residents
 Exhibition Reception – Thursday, July 24th 5:00 – 7:00 PM.
Members free, Non-members $10.
Check the museum website at www.lymanallyn.org and Facebook page for updates and additional programming.
Tours of the exhibition are available for groups. To schedule tours, call Director of Education Mollie Clarke at 860-443-2545, x 110 or e-mail at [email protected].
For more information or to request images, please contact Rebecca Marsie at 860.443.2545, ext. 112 or at [email protected].
Exhibitions and programs are funded in part by the Frank Loomis Palmer Fund, Bank of America, Trustee; People's United Bank, sponsor of Free First Saturdays; and Seward and Monde, Certified Public Accountants and Consultants.
Lyman Allyn Art Museum is a community-based museum located in New London, Connecticut. Founded in 1932 by Harriet Upson Allyn in memory of her father, Lyman Allyn, the museum serves the people of Southeastern Connecticut and general admission is always free to New London residents. The museum is accredited by the American Alliance of Museums and is a non-profit organization with 501(c) 3 status. Housed in a handsome Neo-Classical building designed by Charles A. Platt, the permanent collection includes over 10,000 paintings, drawings, prints, sculptures, furniture and decorative arts, with an emphasis on American and European art from the 17th through 20th centuries.
 The museum is located at 625 Williams Street, New London, Connecticut, exit 83 off I-95. The museum is open Tuesday through Saturday, 10:00 am – 5:00 pm, Sundays 1:00 – 5:00 pm; closed Mondays and major holidays. For more information call 860.443.2545, ext. 129 or visit us on Facebook or the web at: www.lymanallyn.org.