Installed Spring 2022 – Ongoing
Poetry of the Wild is an environmental art project designed to engage communities with their landscape through poetry, art and activity. Ecological artist and sculptor Ana Flores has developed the series since 2003, with installations throughout the region, United States, and abroad. At the Lyman Allyn, the sculptural "Poetry boxes" feature poems by area poets Michael Bradford, Jose Gonzalez, and Rhonda Ward. Each poet has a deep awareness of place in the City of New London. The poems call attention to the poet's perception of nature and encourage viewers to reflect on their own relationship with place, the natural world, and memory. This is the first time the boxes have been commissioned for permanence.
The poetry boxes contain journals for public response and poetry. Guests can use the journals to share reflections on their own lives and environments, contribute poems or creative written pieces, and more.
Flores is an award-winning sculptor, ecologist, writer and curator based in Rhode Island and Nova Scotia. She is interested in how place and geography inform who we are. Her sculptures, park designs and environmental designs begin with long walks and explorations into each unique landscape. Her works were previously featured in the 2021 exhibition Forest Dreaming at the Museum.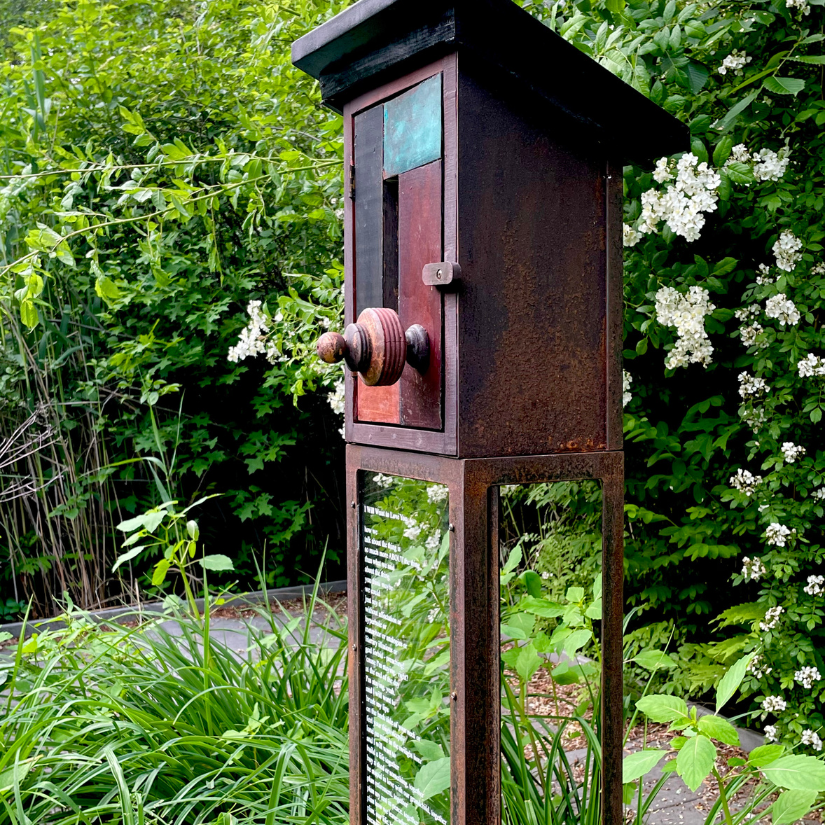 Jose B. Gonzalez is one of the most sought-after speakers in the U.S today. He was born in San Salvador, El Salvador and immigrated to New London, Connecticut at the age of eight. He knew no English and now holds a Ph.D. in English. A nationally known speaker and Fulbright Scholar, he has received national and regional awards for his teaching, for his efforts to improve the conditions of Latinos pursuing a college degree or a career in higher education, and for his poetry. One of the major Salvadoran-American  poets in the U.S., he is the author of the poetry collections, Toys Made of Rock (Bilingual Press), and When Love Was Reels (Arte Publico), and is the founder and editor of LatinoStories.com.
Dr. Gonzalez has been featured  on NPR, Univision, the nationally syndicated show, American Latino TV and at places such as Harvard University, the Smithsonian Museum of the American Indian, and the Poetry Foundation. In May of 2022, his journey to the U.S. will be highlighted as part of the debut exhibit of the Molina Family Gallery at the National Museum of American History.
Michael Bradford is  the Vice Provost for Faculty, Staff, and Student Development at UCONN. At UConn, Bradford has held roles as department head of Dramatic Arts, artistic director of the Connecticut Repertory Theatre, and faculty director for the Schola2rs House Learning Community. Bradford is professor of dramatic arts and teaches theatre history, dramatic literature, and playwriting.  His full-length and one-act plays have been produced at various venues in New York, including Off-Broadway at the American Place Theatre, the LARK Play Developmental Center, and the Ensemble Studio Theatre.  He has held workshops, readings, residencies, and premiered work both regionally and internationally. In 2013 his play OLIVES AND BLOOD was translated into Spanish for a staged reading in the Federico Garcia Salon at the Centro Cultural Dulce Maria Loynaz (Havana, Cuba).
His work is published by Dr. Cicero Press (Woodstock, NY), Broadway Play Publishing, Inc. (NY, NY) and can also be found in the anthology, "Seven More Different Plays", edited by Mac Wellman. Bradford holds a Master's of Fine Arts from Brooklyn College CUNY and a bachelor's in general studies from UConn.
Rhonda Ward served as the inaugural Poet Laureate for the City of New London from 2017 to 2021. Her poems have appeared in print and online, most recently in Poetry in collaboration with poets Marilyn Nelson, Kate Rushin, and Antoinette Brim-Bell, the nature anthology Waking Up to the Earth (edited by Connecticut Poet Laureate, Margaret Gibson), Connecticut River Review, Connecticut Woodlands, and online at the Academy of American Poets' Poem-A-Day Project.  Ward has served on the board of directors for The Writers Block Ink and Soul Mountain Retreat.  She has collaborated with visual artists on numerous projects including the exhibition 3 Steps Forward, 2 Steps Back, with artist Pamela Pike Gordinier and musician Kirk Edwards; and Poetry of the Wild with artist Ana Flores and poets Michael Bradford and José B. Gonzalez. She has co-hosted the annual Langston Hughes Community Poetry Reading at the Mystic Museum of Art for 13 years.
Ana Flores is an award-winning sculptor, ecologist, writer and curator based in Rhode Island and Nova Scotia. Her sculptural and design work of the last two decades has been devoted to cultural narratives that help communities connect with the landscapes. Her interest in how geography shapes us comes from her own experiences of displacement. She came to the United States as a refugee from Cuba with her family. It was only when she settled next to the sacred land of the Narragansetts, the indigenous people of Southern Rhode Island that Flores's began to reroot and find a sense of wholeness. This opportunity to connect deeply with place and ecology transformed her into an ecological artist.
As an educator, Flores taught environmental art and design at the Rhode Island School Design and Bryant University.  At the Rhode Island School of Design she also co-created an innovative course on Arts and Healing. Flores has also been invited to be an artist in residence and do workshops at diverse institutions, creating bridges for the first time between the arts and healthcare, the arts and environment, and the arts and sciences.