Browse examples of still life and portrait paintings in our Brought to Light exhibition for some inspiration!
Materials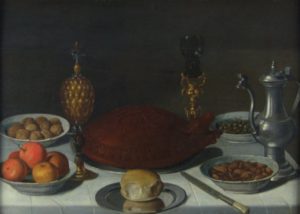 Pencil
Eraser
Paper
Any objects you want to use from around your house, we suggest:

Fruit
Bowls, cups, vases
Flowers
Instructions
Select the objects you wish to use in your still life and arrange them in a creative way.
Start sketching what you see! Focus on scale, form, and shading.
Remember Miss Sophia's rule: It doesn't need to be perfect as long as you are trying!
About Still Life and Genre Painting
Still life and genre paintings, or scenes of everyday life, emerged as categories of art in the Netherlands in the 17th century, although elements of both existed in earlier art and quickly appeared elsewhere. Expanding global trade brought wealth and urbanization to the Netherlands, creating new audiences for art and a demand for paintings concerned with these circumstances.
Still life paintings of flowers and ornate table scenes of food and luxury objects demonstrate an interest in beauty and material goods, intended to reflect the good taste and social status of art patrons. At the same time, these still life paintings caution against excess, suggesting in the temporary pleasure of flowers and food the fleeting nature of earthly possessions. In this era, women artists often specialized in painting still lifes, in part because their gender limited their access to studying and painting the human figure.
Genre paintings present scenes of everyday life, with a variety of subjects to interest viewers. These genre paintings feature a range of people—peasants, the nascent middle class, and the elite—generally involved in an activity, hinting at a larger story. Some scenes offer lessons in behavior, while others evoke a mood, suggesting love, friendship, or contemplation.
Although still lives and genre scenes were seen as less prestigious subjects for artists than history paintings, these painting types were extremely popular with patrons.